FP Markets is Australia's longest running Direct Market Access (DMA) CFD broker with a solid 10-year track record. It is impossible to do an FP Markets broker review without relating some of the earlier stories on how they started.
When CFDs first launched in Australia, it was the UK-based Market Maker CFD brokers who dominated. Both the original founders of FP worked for the largest CFD broker at the time and saw a niche opportunity.
At the time, MF Global recruited a handful of CFD brokers to set up the first DMA CFDs in Australia. Shortly after, two key staff left CMC Markets to establish FP Markets, providing Australian CFD traders with an alternative DMA CFD offering.
With MF Global out of the scene, FP Markets is the longest running DMA CFD broker. Over the last few years, FP Markets added MT4 to their lineup.
The FP Markets Broker review below has been updated for 2018 and should provide plenty of information to see if FP Markets has what you need from a CFD/Forex broker.
FP Markets broker review – The important stuff
Australia's most established DMA CFD broker
Offers both IRESS and MT4 trading platforms
Have some specialist offers for the high-frequency short term Aussie share CFD trader
Have an enviable record of winning the top trading awards
Best Trading Platforms on offer by FP Markets Australia
FP Markets runs both WebIRESS and MT4 trading platforms. They have never gone down the path of building a proprietary trading platform.
In 2018, FP Markets has focused more on promoting their MT4 trading platform. They recently started offering Bitcoin trading in Australia via their MT4 platform too.
Let's review their trading software in more detail below.
FP Markets DMA CFD IRESSTrader Trading Platform
Given FP Markets is the longest running WebIRESS broker in Australia, it stands to reason they have a rock-solid offering.
One of the advantages FP has over other IRESS brokers is the WebIRESS add-ons they've built into the platform.
WebIRESS is a bit tricky in that the standard offering doesn't have many bells and whistles.
Instead, brokers need to customise their solution for their client base. The challenge is these add-ons cost quite a bit.
Is this the best DMA CFD platform in Australia?
Fortunately, FP has generously worked on behalf of their trading clients, making sure they have the best WebIRESS solution on the market.
Here are some of the key points about the FP Markets IRESSTrader platform and offering:
You can access up to 8 global exchanges
FP Markets offers you access to the full list of ASX shares as CFDs
As of Jan 14, 2018, you can short sell 300 share CFDs
You can trade 639 Aussie share CFDs with a margin of 50% or less
355 share CFDs are available to trade under 20% margin in Australia
You can request a special borrow on any stock by calling their office
Their commission rates are the most competitive for an Australian DMA CFD broker
One thing we like about their platform is how easy it is to download their full list of global DMA stocks
FP Markets trading platform on mobile devices
You can access the FP Markets IRESSTrader platform on both the iPhone and Android phones.
FP call their mobile platform 'mobileIRESS'.
Other trading platforms on offer from FP Markets
FP Markets have been the go-to solution for IRESS CFDs for 10+ years. Over the least few years, FP has stepped up their MT4 offering.
FP Markets also offers the following trading platform:
Reviewing the FP Markets MT4 trading platform and broking solution.
FP Markets have worked hard over the years to get access to the best liquidity feeds available.
For some traders, FP might be the hidden gem of an MT4 trading platform. They offer both a standard MT4 account and a Raw ECN style trading account.
Mobile trading on MT4
FP Markets MT4 trading platforms are available across all mobile devices, including:
iPhone
Android
iPad
Mac (Yes, they have MT4 for Mac too)
FP Markets commissions, margins and leverage
One of the things to keep in mind with a global DMA broker is each exchange has different brokerage and minimums.
The table below shows their commissions and overnight financing rates for Australian share CFDs.
You can view the IRESSTrader platform fee and the ASX data fees as well. If you are not an active trader, you may want to access the IRESS Investor, and ASX delayed or click to refresh data. This combination is free to access as you can see below.
You will notice a tiered brokerage rate depending on your account opening balance. If you step up to the $50,000 deposit level, you can see their commission rates drop down to 0.08%.
Share CFDs with FP Markets
FP Markets provides access to every stock on the Australian market. It is just the margins that differ. The largest ASX share CFDs have margins from 3 to 10%. The smallest low-cap stocks require 70-100% margin upfront.
The convenience of getting access to every stock is you can manage your trades all from the one account.
The challenge is you still have to pay interest on the full position, even when you put up 100% of the margin. Perhaps this is something that will change down the track.
Another positive for FP Markets is they provide the full excel list of share CFDs available. We mentioned our frustration in our CMC Markets review because they do not offer the excel list.
This means you can quickly pull the data into charting platforms like MetaStock or AmiBroker.
Forex CFDs with FP Markets
Via their MT4 trading platform, FP Markets provides access to 45 currency pairs (as of Jan 14, 2018).
Your minimum trade size is one micro or $1,000 position on both the standard and ECN style Forex accounts.
In Australia, the MT4 competition between Pepperstone, IC Markets, Invast and AxiTrader continues to favour the trader.
Every single broker is focused on getting your business. As a result, they continue to offer lower and lower Forex spreads.
Index CFDs with FP Markets
The Index CFD offering from FP Markets is quite competitive. There is a lot to like about FP Markets Index trading offers. You can trade both the cash and the futures products.
You can trade 9 CFD stock indices via the MT4 platform. Their list of index CFDs is available in the image below.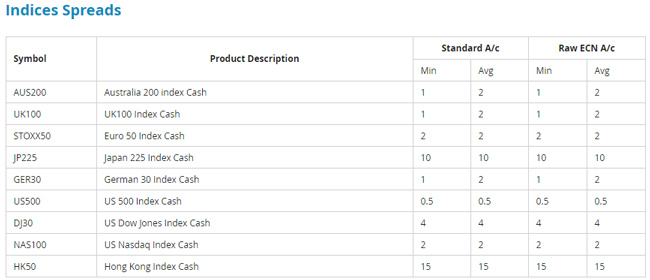 Some of the other brokers offer a few more index CFDs compared to FP Markets.
Both CMC Markets and IG Markets offer the cash and futures index pricing via the one platform.
FP's MT4 platform allows you to trade the cash. But to trade DMA Index Futures, you need to access them via their IRESSTrader platform.
The table below highlights their commission rates and available DMA Index Future CFDs (as of 14 January 2018).

You'll need to consider whether you want to trade either cash or the futures when looking at the best CFD broker for you.
Commodity CFDs with FP Markets
FP Markets keeps things simple when it comes to commodity CFDs.
You get access to:
Gold vs. US Dollar
Gold vs. Aussie Dollar
Silver vs. US Dollar
Silver vs. Aussie Dollar
Platinum vs. US Dollar
Palladium vs. US Dollar
West Texas Intermediate (WTI) Crude Oil vs. US Dollar
The image below shows the list of commodity CFDs, the contract size and the margin required for each contract.

Leverage available with FP Markets
Leverage levels in 2017 have been heading lower around the globe.
Forex traders in Japan cannot trade at greater than 25 to 1 leverage.
Cyprus mandated the default leverage at 1:50 for new FX and CFD traders.
FP Markets has a maximum leverage on the account set at 500 to 1 on the Forex pairs.
Having said that, the FP website suggests a standard leverage of 100 to 1. But if you ask you can have it increased to 200 to 1. Then further down, a table indicates an account balance minimum of $500 and maximum of $10,000 can get access to 500 to 1 leverage.
Leverage on share CFDs can be as high as 33 to 1, but only one stock is available at this margin. You can trade Woolworths at 3% margin, which is great. The next step is 5% margin or 20 to 1 leverage.
Trading at more than 200 to 1 leverage may seem like a good idea for those who like to gamble their account, but it truly isn't necessary. Why gamble with your hard earned money. There is no need for it.
Range of markets with FP Markets Australia
FP Markets Markets offer the full suite of the more traditional markets including:
Forex
Indices
Share CFDs on local and global exchanges
Commodities
What types of trading accounts do FP Markets have?
As mentioned above, FP Markets caters more to the sophisticated trader with a higher starting account. You will need from $10,000 to $25,000 in your account to access the top features on offer with FP Markets.
FP Markets allows you to start with a demo trading account for MT4. You can also access a demo IRESSTrader account as well. But demo IRESS accounts are always a bit messy with data fees or delayed data. Best just to go open a live IRESS account and get started that way.
When opening a live CFD or Forex account with FP Markets, you can open the following accounts:
Individual account
Corporate and trust accounts
Self-Managed Superfund accounts
Joint accounts
Reputation, security and awards won by FP Markets
FP Markets has built a solid reputation over the last ten years. Since the fall of MF Global, FP has always been known as the best DMA CFD broker in Australia.
They have a strong reputation with serious DMA traders and especially those with more than $50,000 – $100,000.
Also, feedback in the trading community has always been positive regarding the staff working there. When you give them a call, you know you are talking with a team who understand trading.
Reviewing the awards FP Markets has won
When you review the FP awards page, you will count 34 awards won since 2009. It goes without saying, FP Markets have a strong track record of winning Australia's top CFD broking awards.
Nearly every year FP is ranked highest with the best support, customer service and execution awards.
Who are the FP Markets analysts?
In 2018 they have decided to use the services of a few market professionals. Rudi Filapek-vandyck and Evan Lucas have been running regular video training. Gary Burton is also featured on many of their online education.
What about Trading education at FP Markets
FP Markets have been renowned for their Monday Market Outlook webinars. These are recorded every Monday morning over 30 minutes with over 200 people attending. These were formerly run by Gary Burton.
Every week they are recorded and uploaded to the FP Markets YouTube channel.
In addition to the Monday webinars, FP run regular live seminars in Sydney, Melbourne and Brisbane.
Their website also has a range of online CFD trading webinar tutorials ranging from Fibonacci trading, technical analysis, system trading and High Probability trading setups.
Do FP Markets have any account opening bonuses or special promotions?
When making a review of the account opening bonuses available at FP Markets Australia in 2018, we noticed some account opening bonuses.
They were offering a 20% account opening bonus with MT4. FP also had an IRESS $1 brokerage trial for those looking to trade DMA CFDs. Another Forex MT4 bonus they had on offer via Facebook ads was a $200 account bonus top-up.
As with all bonuses, they all have expiry dates. Best to phone FP direct and ask them if they have an offer available right now.
FP have also started offering Bitcoin training via MT4 as of 2018.
What are the top 3 features of FP Markets as a Broker?
1. You get access to an experienced team of support staff
FP have spent a lot of time and effort finding the best staff to service their traders. It shows. Give them a call and ask some questions. It's always nice when as a trader you get to speak to other knowledgeable traders.
You should take advantage of their experience for trade ideas and improve your trading.
2. Their awards 
The fact that FP wins awards isn't going to make you a better trader. It also doesn't mean you are getting lower spreads.
But with FP, they have been consistently winning awards since 2009. Year after year, they win awards.
If nothing else, it shows a dedication to being the best. Not just a dedication to being the best, but they are the best in some key areas.
3. You get access to the FP Technical Analysis Monday webinars
For years now, FP has opened their analysis up to traders on a Monday.
Every Monday the team will discuss what you should be focusing on right now in the market. Where are the hot spots? What stocks are likely to break out. You will learn about the major news events impacting the markets and what you need to think about for the week ahead.
The webinars are based on technical analysis with a little bit of fundamental analysis thrown in.
Conclusion
FP Markets is the longest standing DMA CFD broker in Australia, providing the best service to Australian traders.
If access to DMA CFDs is high on your priority list, then give FP Markets a call to open a trading account.
We've covered a lot in this FP Markets Australia Broker review and so now is the time to move forward and open a demo or live trading account.
Jump onboard, test their IRESSTrader or MT4 trading platform, check out their spreads and place a few trades. You may find a hidden gem in what they offer.
While there are a range of CFD Brokers and Forex Brokers around, the best way to see if a broker is right for you is to download their free demo.
LearnCFDs.com may be compensated by brokers listed via the links on this site and earn a small commission.
Disclaimer: Trading Contracts for Difference carry risk where you can lose more than what you start with. View our full disclaimer here.