Pepperstone launched  back in 2010 and quickly become one of the largest Forex brokers in Australia. In 2018, they truly are a dominate force among the leading Forex brokers.
In this Forex broker review on Pepperstone, we'll see if Pepperstone has the platforms, the execution speed and flexibility with accounts to earn your trading dollars.
Pepperstone have won a number of Forex awards and in 2014, BRW named Pepperstone as the fastest growing company in Australia.
Pepperstone broker review – The important stuff
Over 70 tradeable instruments
Pepperstone offer both MT4 and cTrader platforms
Provide access to 500 to 1 leverage (this may change in 2018)
22 Tier 1 banks providing liquidity into their pricing feeds
Best Trading Platforms on offer by Pepperstone
Pepperstone have focused on being the best Forex broker in Australia. As a result, they have MetaTrader 4, MetaTrader 5 and cTrader.
Let's review their trading platforms in more depth here.
Pepperstone MT4 platform review
With Pepperstone, you get access to MT4 for the desktop, iPhone, Mac and Android devices.
Pepperstone cTrader platform review
The Pepperstone cTrader platform is available across all devices, just as they do with their MT4 platforms.
You can access the cTrader platform via:
Web
Mobile web
iPhone
Android
cTrader has quickly become one of the most preferred Forex trading platforms for serious FX traders. The bells and whistles on cTrader are impressive.
MT4 Forex Trading Signals
There were no obvious Forex trading signals being offered by Pepperstone as we did this review. No Autochartist or Trading Central available.
Pepperstone provide both MT4 and cTrader, which allow Expert Advisors and fully coded auto-executed trading systems. They back this up with a robust VPS for the serious Forex trader.
Pepperstone spreads, commissions, margins and leverage
To start with, Pepperstone provides access to 90 trading instruments including Forex, Indices, Commodities and CFDs.
Pepperstone have two different trading accounts to choose from including:
Standard account
Razor Account
Swap Free Account
Active Traders Account
Let's review the Pepperstone standard account.
Standard account commission
With Pepperstone you get commission free trading on all trading instruments available via MT4.
In all, traders get access to 77 trading instruments, which does include:
Forex
Indices
Commodities
Precious Metals
Crude Oil
Standard account spreads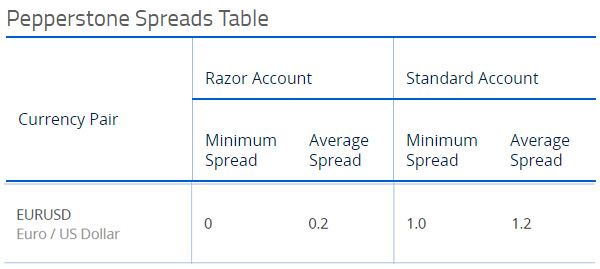 Pepperstone quote the EURUSD on the standard account at a minimum of 1 pip with the average spread coming in at 1.2 pips.
This is a tad high, but you do need to consider the liquidity coming in. Many Forex brokers in Australia will quote the EURUSD at 0.7 pips, but you need to be mindful of the liquidity feeds coming in.
On the standard account, the GBPUSD spread is 1.1 minimum with the average coming in at 1.57. Higher spreads on Cable are pretty normal among Forex brokers.
One of the key benefits of trading with Pepperstone is access to their ECN feeds, which we'll talk about below.
Standard account margins & leverage
Margins at Pepperstone start at 0.20%, providing leverage up to 500 to 1.
Nobody needs to be trading at 500 to 1 leverage. With governments around the world clamping down on excessive leverage among Over the Counter derivatives, we should see this number come down.
Pepperstone may have 500:1 leverage now, but you can be rest assured that in 2018, this figure will change. It has to come down for the safety of all traders.
There is no need to access such high levels of leverage.
Let's review the Razor account Pepperstone has available
Razor account commission for both MT4 and cTrader
Pepperstone came up with an ingenious Forex account name 'Razor'. A stroke of genius really, as so many Forex traders are looking for razor tight spreads.
Pepperstone offer their best interbank liquidity to their Razor account holders.
Commission for the Razor Forex account is $3.50US per side or $US7 round turn.
But, and here is the good news, you are not always charged in USD for your full commission.
The good news is the commission for Razor is determined by the currency you are trading. It doesn't matter what denomination your account is in. If you are trading AUDUSD, then you will be charged $7AUD per round turn for a full lot. Nice.
Despite being the more advanced platform, the Razor FX account allows you to trade as small as 0.01 lots. Normally the ECN style feeds and Pro account have minimums of one standard lot or perhaps as low as a mini FX contract.
In any case, the image below highlights the top features of the Pepperstone Razor account.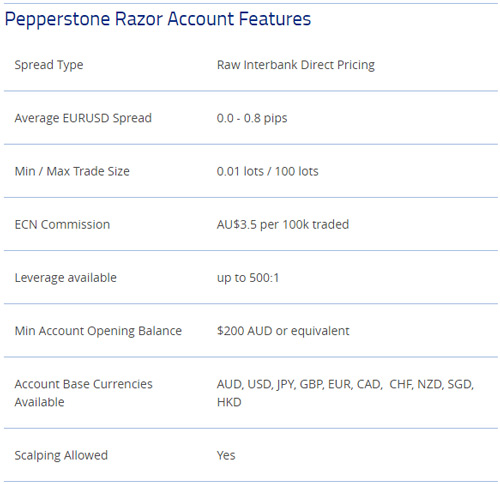 Reviewing the Pepperstone Forex CFDs
Pepperstone offers Forex traders access to more than 70 currency pairs.
Pepperstone are very passionate about their price feeds and the depth of their liquidity.
When it comes to Forex, their catch-cry is access to interbank execution and exceptional low spread pricing.
Is this the reality? Many brokers have an almost identical spiel on their site, so the only way to find out is to open an account and start trading with them.
Reviewing the Pepperstone Index CFDs
Pepperstone have 14 index futures and they suggest there is no dealing desk intervention with their orders. On one of their pages it does say 13 index CFDs, but their table of Index CFDs does list 14 of them.
They also provide their own CFD technology, developed exclusively by them specifically to handle large CFD order with minimal slippage. As you can see in the table below, every key global index is covered with the the session times noted.
You can click the other reviews here to see how Pepperstone reviews against IG Australia, AxiTrader and GO Markets.
Reviewing the Pepperstone Commodity CFDs
Trading commodities with Pepperstone gives you access to Gold, Silver, Platinum, Palladium and you have the option to trade them against the USD or EUR.
This is a unique as many Australian based Forex brokers made it a point to offer the precious metals against the Aussie Dollar. This way your profits and losses didn't have to be converted back to your local currency, saving you some spread.
You also get access to the other main commodities being Crude Oil (Brent and WTI), Natural Gas plus the softs. The soft commodities including Coffee, Sugar, Cocoa, Cotton and Orange Juice.
In 2018, Crude Oil has started the year off with a bang. Crude Oil has been hitting the highest price in 3 years, which is perfect for the Oil bulls.
Leverage available with Pepperstone
Leverage levels in 2018 have been heading lower around the globe.
Forex traders in Japan cannot trade at greater than 25 to 1 leverage.
Cyprus mandated the default leverage at 1:50 for new FX and CFD traders.
Pepperstone have a maximum leverage on the account set at 500 to 1.
We spoke about the excessive leverage option available. But many intraday traders love the ability to trade huge on very small time frames.
They can control their stop losses and their golden rule is never to hold a position overnight. That is where the massive CFD trading risks come in for highly leveraged traders.
Trading at higher than 200 to 1 leverage may seem like a good idea for those who like to gamble their account, but it truly isn't necessary.
Range of markets with Pepperstone
Pepperstone Markets offer the full suite of the more common markets including:
Forex
Indices
Commodities
Precious Metals
What types of trading accounts does Pepperstone have?
Via their MT4 platform, you can start off with a demo trading account to see what their price feeds are like.
Pepperstone allows you to start with a demo trading account to access either CFDs or Forex.
When opening a live CFD or Forex account with Pepperstone, you can open the following accounts:
Individual account
Corporate and trust accounts
Joint accounts
Self-Managed SuperFund accounts
Islamic accounts
Reputation, security and awards won by Pepperstone
Pepperstone were initially established in 2010 in Melbourne, Australia by Owen Kerr and Joe Davenport.and have been a leading MT4 Forex broker, ECN broker and cTrader broker ever since.
There has been an incredible amount of excitement around these two entrepreneurs as it is reported that Owen Kerr's net worth is around $353 million in 2015. Both Owen and Joe are on the BRW Young Rich List and haven't even reached 35 years of age yet.
Both Owen and Joe also won the 2015 Australian EY Entrepreneur Of The Year award back in 2014. So the owners of the company are very much used to the limelight and publicity.
Early in 2016, Pepperstone secured a multi-million dollar investment by CHAMP private equity.
While no exact figure was given on the investment, it was rumoured to have been in the $100-$200 million range.
Reviewing the awards Pepperstone has won
In addition to the awards for the founders mentioned above, Pepperstone have won numbers BRW fastest growing company awards plus Investment Trends awards from 2015 onwards.
Who are the Pepperstone analysts?
Pepperstone have never really focused on having a team of analysts, instead it seems, they have been focused on building a powerhouse Forex brokerage.
Having said that, they did secure a deal with both Kathy Lien and Boris Schlossberg from BKA Asset Management in 2016.
Kathy and Boris provide weekly Forex trading analysis and trading ideas directly to the Pepperstone blog.
It is actually quite a comprehensive analysis including all the major economic points on the currency pairs plus a few videos providing technical analysis.
What about Trading education at Pepperstone
Pepperstone have a range of educational material including:
Trading guides (lots of these)
Up to date market analysis and reports (ie How to trade Brexit)
Whitepapers and plenty of Forex tips
How to Trade guides on Forex, Gold, Indices and Crude Oil
Platform training tutorials on MT4
Platform training tutorials on cTrader
Does Pepperstone have any account opening bonuses or special promotions?
Pepperstone's account opening Forex bonus in 2018 is a Qantas Frequent Flyer Promotion. How Australian.
The deposit bonus works like this. You earn 10 Qantas points for every $AU1 deposited to your trading account. You can earn a maximum of 10,000 Qantas points using this offer.
What are the top 3 features of Pepperstone as a Broker?
1. They provide an upgrade to MT4 known as the Smarter Trader Tools for MT4
2. You get access to weekly analysis by Kathy Lien and Boris
3. Their founders have an incredible story
We know point three isn't going to benefit your Forex trading in any way, but they have set an incredibly high bar for all Forex brokers. In particular, they have shown without a doubt how to succeed in one of the most competitive spaces online today.
Conclusion
Pepperstone claim to be the World's leading Forex broker.
Even though they have such a bold claim, they are processing over $US5 billion per day in the Forex markets. Those are some very impressive figures.
Should you open a live account with them? Why not. If you are a little hesitant then go ahead and open a demo account and see the depth of their liquidity yourself.
They are regulated in both Australia with ASIC and in the UK under the FCA.
Hopefully, our Pepperstone Australia Forex Broker Review has shed some light on whether Pepperstone Australia is suitable for your specific trading needs.
While there are a range of CFD Brokers and Forex Brokers around, the best way to see if a broker is right for you is to download their free demo.
Disclaimer: Trading Contracts for Difference carry risk where you can lose more than what you start with. View our full disclaimer here.