Looking for More Information on GO Markets? Our GO Markets Forex Broker Review Will Help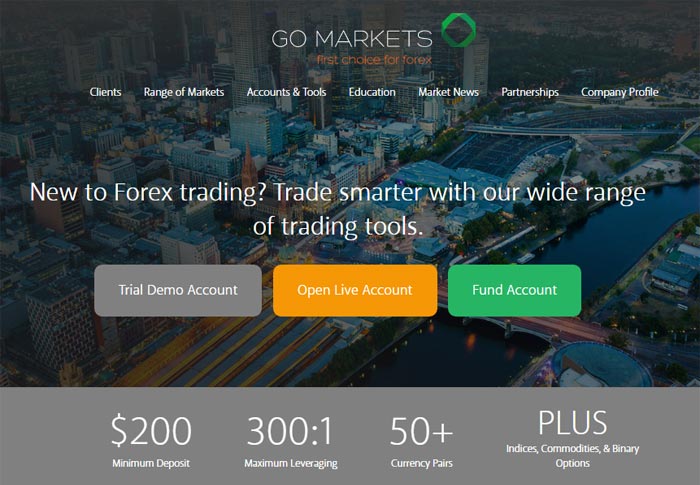 Ease of use
GO Markets has been involved in the MT4 Forex broking business since 2006 and is well known as the first Forex broker to introduce MetaTrader 4 to Australia.
As a specialist MT4 Forex Broker only has one main trading platform, being MT4, their site and product offering is incredibly easy to navigate around and use.
Their website is straightforward, offering a range of handy MT4 add-on tools such as MT4 Genesis, which is available for those who open a live trading account with $500 or more.
The GO Markets Blog – Around the Grounds
One of the areas we like most about their website is their daily Forex blog called Around the Grounds. They consistently blog about the market moves during the day, have a couple of analysts tweeting and giving trade suggestions and provide all the key economic news for the evening ahead.
Platform Features
MT4 is their speciality and have been servicing MT4 to clients for over ten years now. There probably isn't a question they haven't answered on MT4 in one way or another.
They have a couple of standout features when it comes to MT4, with their main one being MT4 Genesis.
What is MT4 Genesis – We review the key elements here
MT4 Genesis is 9 separate trading tools in one which can all be added quickly via an expert advisor, which you download when you have a qualified live trading account.
Here are the nine main features of their MT4 Genesis:
Sentiment Trader – Get market insights and track market sentiment
Correlation Trader – Spot new trading opportunities and cut down on money management errors
Market Manager – Never miss the start of a trading session
Alarm Manager – Use the powerful Alarm Manager trade notification tool which can also trade automatically for you. Watch the video tutorial below for a sample.
Correlation Matrix – Visualise correlation scores and the strength of specific patterns without any separate spreadsheets
Session Map – Never miss the start of a trading session
Trade Terminal – Easily manage your trades and your trading account
Mini Terminal – organise your charts and access trade management tools directly from your charts.
Economic News Calendar – Stay up to date with your favourite news feeds, gain insights from traders on Twitter and view all the key economic news in the one spot.
In addition to MT4 Genesis, GO Markets also provide their live qualifying clients with both Trading Central and AutoChartist. Both of these provide trading alerts and signals and more importantly, can be applied directly to your charts.
Commissions and margins
GO Markets have two main MT4 trading accounts which you can access including a standard account and a Pro account.
Essentially the standard account is commission free and has higher spreads, which the Pro account charges a small commission rate of $AU3.50 per side for one standard lot) and spreads go down as low as 0.5 pips.
Given GO Markets focus on Forex, Indices, Commodities and Binary Options, their margins are extremely small.
Range of markets
GO Markets offer the full suite of markets including Forex, Indices, Commodities, Precious Metals & Binary Options.
What is interesting to note is they allow you to trade Binary options via MT4. They are one of the very few binary options brokers who provide access via MT4, so might be worth checking out if you need that.
Reputation and security
GO Markets have been in operation since the year 2006 and are a specialist MT4 Forex Broker. They are regulated by ASIC (AFSL 254963. ACN 081 864 039) and have offices in the UK, Germany, Spain, China, France and Italy.
There are many GO Markets Forex broker reviews on various online trading forums if you wanted to check those out.
Spreads, fees and charges
Spreads for their Forex pairs are as low as 1.2pips for a standard MT4 Forex account and as low as 0.5 pips for their Pro account. They also have a VPS service you can tap into if you want to run your MT4 Expert Advisors to trade automatically for you.
When it comes to the Pro account, you pay a nominal $AU3.50 per side for a full contract.
Conclusion on GO Markets Australia
GO Markets are considered Australia's top MT4 Forex broker, having been providing the service since 2006. Their offices are in Melbourne, Australia and their range of markets they provide access to is quite extensive.
One of the best ways to get to know the team at GO Markets is via their regular blog posts. Their analysts are quite knowledgeable, including Adam Taylor, who comments on both the fundamental and technical aspects of trading the global FX markets, but also has a long history of using Point & Figure charting.
Do you need Chinese Forex commentary?
If Chinese is your preferred language, then you will want to catch up with Mike Huang's regular marketing commentary on the GO Markets YouTube channel. Every day he updates you with the latest market movements in a 5-10 minute video overview.
Hopefully, our GO Markets Broker Review has shed some light on whether this broker is suitable for your specific trading needs or not. Whilst there are a range of CFD Brokers and Forex Brokers around, the best way to see if a broker is right for you is to download their free demo.
Disclaimer: Trading Contracts for Difference carry risk where you can lose more than what you start with. View our full disclaimer here.