Over the years, AxiTrader has continued to impress as an innovative MT4 Broker. That is why we are quite interested in running this AxiTrader broker review, updated for 2018, so you have all the info to see if Axi is the best Forex broker for you.

At the end of 2016, AxiTrader secured a significant strategic investment from the team at RGT Capital.
So it might be early days for 2018, but we are expecting some exciting things from Axi going forward.
While we are not going to talk about it specifically in this review, it would be fair to say expansion and acquisition are on the cards for this leading Australian Forex broker.
AxiTrader broker review – The important stuff
One of Australia's leading MT4 Forex brokers in Australia
They pride themselves on being able to source the best liquidity feeds
Excellent range of MT4 add-ons including Axi MT4 Nexgen
One of the best analysts in Australia, Gregory McKenna
Best Trading Platforms on offer by AxiTrader
AxiTrader have focused on being the best MT4 Forex broker in Australia. As a result, they have built out their MetaTrader 4 offering.
The AxiTrader strength comes from the extra tools they provide to their clients.
Let's review each of the tools within their main MT4 platform here.

MT4 for PC
Considering it is the world's number 1 Forex platform, MT4 for the PC is the core offering from AxiTrader.
You get access to one-click trading, drag and drop charting and of course the standard trading analysis or the numbers of your trading history. Things like the average win, average loss, consecutive wins and losses, expectancy and Sharpe ratio to name a few.
Things like the average win, average loss, consecutive wins and losses, expectancy and Sharpe ratio to name a few.
You can view the MT4 cheat sheet too.
All handy numbers to keep on top of.
MT4 for Mac
For those who love their Mac's, AxiTrader has you covered with their version for the Mac.
MT4 for iPhone
Pretty standard offering nowadays. You download the MT4 app on your iPhone, punch in the login details for either a demo or live account and you are up and running.
MT4 NexGen
For serious Forex traders, this is a must have add-on to MT4.
To really review the AxiTrader NexGen MT4 suite, we'd need to write another 2,000 words on this page.
Suffice to say that NexGen will help you:
Simplify your MT4
Provide a number of advanced order management tools
Allow you to track the sentiment among traders across every time-frame
Even simple things like a session map, which highlights when the global markets open and what news to expect in each market
Truly the stand-out feature of NexGen is the ability to automate your orders. If you place the same order over and over, then you next NexGen.
Let's say on every order you place a conditional limit to buy below the market if triggered place a stop 45 pips away. Then run a trailing stop behind the order by 30 pips. But you'd like to close 50% of the position when you get to 30 pips profit.
A multi-leg order like this takes time. You can set a template up with NexGen and click the button, and it will be set on your next trade. So much easier.
MT4 Forex Trading Signals
AxiTrader provides access to tools like AutoChartist. AutoChartist is one of the best chart pattern recognition plugins on MT4 and can be applied directly to your charts.
Also, they allow you to import trading system EAs from Myfxbook Autotrade. This can be handy if you are confident in the system. But rightly so, AxiTrader highlight the caution needed when considering any auto trade or automated MT4 trading system or Expert Advisor (EA).
AxiTrader spreads, commissions, margins and leverage
To start with, AxiTrader provides access to 80 currency pairs, which is already around 20 pairs more than most MT4 brokers in Australia.
AxiTrader have two different trading accounts to choose from including:
Standard account
Pro Account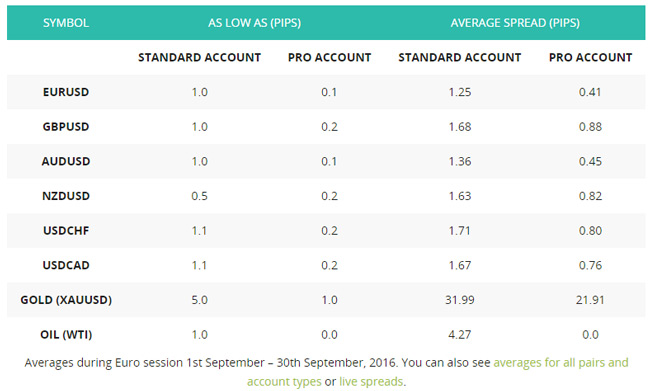 Let's review the AxiTrader standard account
Standard account commission
The standard account is commission free trading on all the MT4 products.
Standard account spreads
As you can in the table above, the spread on the EURUSD is 1 pip, which is quite standard for Australian Forex brokers. Many years ago, the GBPUSD (Cable) used to have spreads up to 5 pips (another broker). This is going back to 2005 when we first started trading Forex.
Nowadays you can see AxiTrader have GBPUSD spreads at 1 pip. That's fair.
Standard account margins & leverage
Margins at AxiTrader start at 0.25%, providing leverage up to 400 to 1.
Let's review the AxiTrader Pro account
Pro account commission
The pro account attracts a commission of $7USD round trip. This means for each full lot ($100,000) your commission will be $3.50USD for a buy and $3.50USD for a sell (at the full lot value).
Pro account spreads
The table above highlights two important numbers for traders to be aware of. You can see both the 'as low as' spreads and the average spreads.
It's great that AxiTrader shows the average spreads because that is much closer to the mark.
You will have fleeting moments of low liquidity and low volume where you will see zero pip spreads. Fantastic. But in reality, your spreads will be higher.
Pro account margins & leverage
Margins at AxiTrader start at 0.25%, providing leverage up to 400 to 1.
Reviewing the AxiTrader Forex CFDs
AxiTrader offers Forex traders access to 80 currency pairs.
One of the things we like about their MT4 platform is when you download it, the market watch window comes populated with their complete product list.
Other brokers provide a reduced list and then make you add the products you want one by one.
For new traders, this is a cause for frustration and usually, involves a call to the support desk to add them.
A new addition to the AxiTrader line-up is their Forex NDFs (Non-deliverable Forwards).
You can now trade ten new exotic Margin FX Currency pairs from Asia and South America via MT4.
Here is a list of the new exotic margin FX pairs available to trade:
Brazilian Real (BRL)
Chilean Peso (CLP)
Columbian Peso (COP)
Chinese Yuan Renminbi (CNY)
Indonesian Rupiah (IND)
Indian Rupee (INR)
South Korean Won (KRW)
Malaysian Ringgit (MYR)
Philippine Peso (PHP)
Taiwanese Dollar (TWD)
Reviewing the AxiTrader Index CFDs
AxiTrader have 11 index futures you can trade via MT4. As you can see in the table below, every key global index is covered with the various tick value, minimum and maximum trade size and the trading hours.
AxiTrader don't have as much flexibility with the range of Indices as someone like IG Australia have, but it can be expected when you list everything in MT4. MT4 doesn't have the flexibility of adding thousands of trading products. You will find it like for like when comparing IG's MT4 with AxiTrader's though.
Reviewing the AxiTrader Commodity CFDs
AxiTrader provides commodity CFDs across energy, precious metals and some softs. None of the contracts has a fixed expiry date.
As a general rule, the most frequently traded commodities are the precious metals (Gold and Silver) and the other favourite product is Crude Oil. You can trade both Brent Crude and WTI Crude contracts.
Leverage available with AxiTrader
Leverage levels in 2018 have been heading lower around the globe.
Forex traders in Japan cannot trade at greater than 25 to 1 leverage.
Cyprus mandated the default leverage at 1:50 for new FX and CFD traders.
AxiTrader have a maximum leverage on the account set at 400 to 1.
Trading at higher than 200 to 1 leverage may seem like a good idea for those who like to gamble their account, but it truly isn't necessary. Why gamble with your hard earned money. There is no need for it.
Range of markets with AxiTrader
AxiTrader Markets offer the full suite of the more common markets including:
Forex
Indices
Commodities
Precious Metals
Exotic FX Margin NDFs
You can tell by the new edition of Exotic NDFs that AxiTrader is committed to staying at the forefront of MT4 offerings.
What types of trading accounts does AxiTrader have?
Via their MT4 platform, you can start off with a demo trading account to see what their price feeds are like.
AxiTrader allows you to start with a demo trading account to access either CFDs or Forex.
When opening a live CFD or Forex account with AxiTrader, you can open the following accounts:
Individual account
Corporate and trust accounts
Joint accounts
Self-Managed SuperFund accounts
Reputation, security and awards won by AxiTrader
AxiTrader was initially established in 2007 in Sydney, Australia and have been a leading MT4 Forex broker ever since.
They have opened offices in London (regulated by the FCA) and in 2015 opened their first Chinese office.
2016 was a big year for AxiTrader, introducing 30 new trading symbols and monthly trading volume hitting more than $100Billion. They also expanded their operations into Latin America, Germany and the Middle East.
As mentioned at the beginning, 2018 is shaping up to be a big year given their capital raising and expansion plans. Watch this space.
Reviewing the awards AxiTrader has won
In the 2014 Investment Trends Australia FX report, AxiTrader had the strongest brand association with being "trustworthy" among current FX traders.
They have also won the financial institution of the year at the Asia-Pacific Financial Investment Association and various other awards going back to 2012.
Who are the AxiTrader analysts?
AxiTrader have one of Australia's leading analysts in Greg McKenna.
Greg has more than 25 years of experience in trading the markets, and the LearnCFDs team follow him daily.
Greg rates at the very top regarding the number of content pieces he puts out daily. But it isn't just the quantity; it is the quality as well.
You can catch up with Greg on SkyBusiness, Bloomberg, CNBC and other major business channels.
Also, Greg puts out an 8-10 minute Forex market update video every day, which is worth watching too.
Greg's background is being the first Currency Strategist at Westpac, Head of Currency Strategy at NAB and also as a Fund Manager.
In addition to Greg, AxiTrader has another analyst, Milan Curkovic who always provides a suite of both technical and fundamental analysis.
What about Trading education at AxiTrader
AxiTrader have a range of educational material including:
Trading guides
Forex infographics
Platform training tutorials on MT4
But the best education is to watch Greg McKenna's Daily market analysis on video via the AxiTrader YouTube channel. There is more than enough training in those videos every day.
Does AxiTrader have any account opening bonuses or special promotions?
When making a review of the account opening bonuses available at AxiTrader Australia, we noticed their refer a friend promotion.
AxiTrader's refer a friend allows you to receive up to $200 cash and your friends will each receive up to $400 cash once they meet the trading requirements.
As for other bonuses available in 2018, we did notice a promotion of additional trading credit to boost your trading margin. Depending on your deposit amount, you could get a 30-100% bonus credit. Terms and conditions apply, and the offer ends on the 31st of January 2018.
What are the top 3 features of AxiTrader as a Broker?
AxiTrader NexGen
There is no doubt this is the stand out feature for signing up with AxiTrader. See the comments above highlighting some of the features of Axi NexGen.
2. You get training directly from Greg McKenna every day.
Greg is a professional trader/analyst who is also very humble.
There is no doubt you trading knowledge and expertise will increase by listening to him.
Watch a few of his daily commentary videos and see for yourself.
3. They pride themselves on being able to source top-tier liquidity feeds
AxiTrader have spent a lot of time, energy and resources bringing in the best liquidity feeds so all clients get fast execution.
Their AxiPrime service is one of the leading Prime of Prime brokerage services in Australia, providing liquidity to smaller brokers.
Conclusion
When AxiTrader hit monthly trading volumes of $100billion, they noted it put them in the top 10 Forex brokers in the world. That is no small feat.
They are committed to helping you get everything you need from a leading MT4 Forex broker.
Hopefully, our AxiTrader Australia Forex Broker Review has shed some light on whether AxiTrader Australia is suitable for your specific trading needs.
While there are a range of CFD Brokers and Forex Brokers around, the best way to see if a broker is right for you is to download their free demo.
LearnCFDs.com may be compensated by brokers listed via the links on this site and earn a small commission.
Disclaimer: Trading Contracts for Difference carry risk where you can lose more than what you start with. View our full disclaimer here.