If you are trading CFDs or Forex, IG (formerly IG Markets) will have crossed your path. IG are the largest retail CFD broker & FX Broker in Australia and have gone from strength to strength since day one.
The IG Broker review below has been updated for 2018 and should provide plenty of information to see if IG has what you need from a CFD/Forex broker.
To put it in perspective, IG has been around since 1974, have 152,600 clients worldwide and provide access to 10,000 markets to trade.
IG broker review – The important stuff
Australia's largest CFD & FX Broker
Commissions on share CFDs from $8 or 0.10%
Share CFD margins from 5%, Forex & Indices from 0.5% and precious metals from 0.7%
All client money is segregated and not used for hedging purposes
What types of trading accounts does IG have?
With access to over 10,000 trading instruments globally, let's take a look at the account types IG provide.
IG allow you to start with a demo trading account to access either CFDs or Forex.
When opening a live CFD or Forex account with IG, you can open the following accounts:
Individual account
Corporate and trust accounts
Self-Managed Superfund accounts
Joint accounts
Best Trading Platforms on offer by IG Australia
IG has a range of trading platforms to cater to traders at all levels. In this IG trading platform review, we'll cover each one so you can choose the right option for you.
IG Core Trading Platform
IG's core trading platform is a web-based application which they developed right from the beginning.
It is browser-based, so you don't need to download any software to access the markets and your trading positions.
The interface is simple and has some handy features for traders of all levels.
You get access to one-click dealing; you can trade directly from the charts, and they have easy to use deal tickets. The Core trading platform is free to use.
IG's trading platform is available on all devices
IG provides access to their core trading platform via iPhone, Android mobile, Windows phone, iPad, Android Tablet and Windows Tablet.
No matter your device, IG have you covered.
Other trading platforms on offer from IG
In addition to IG's Core trading platform, they have specialist trading platforms with a number of stand-out features.
The three main trading platforms include:
L2 Dealer
ProRealTime
Metatrader
These platforms offer features suited to those looking to trade DMA CFDs and Forex.
Let's take a look at IG's advanced trading platforms in more detail.
L2 Dealer
With L2 Dealer, you get Direct Market Access (DMA) when you activate the level 2 trading platform. This is available via download and to get access to the platform for free you need a minimum account balance of $2,000. L2 Dealer is for the advanced Forex trader who prefers their price feeds coming from Currenex, Bloomberg and by FIX API.
ProRealTime
ProRealTime is IG's leading advanced charting package on the web, offering top-of-the-range monitoring tools, and advanced analysis resources. If you love coding indicators and system backtests, then ProRealTime is an ideal trading solution.
MetaTrader 4
Traditionally, IG never gave too much attention to MT4. The reasons are simple. It is considered a specialist Forex platform, but it is limited by the number of products available. IG's Core platform will provide so much more freedom. But given MT4 is considered the world's most popular Forex platform, it is a must have for Australia's largest Forex broker. In addition to the standard features of MT4, IG provides Forex traders access to both Autochartist and Trading Central analysis directly on their MT4 charts.
IG commissions, margins and leverage
IG keep their commission, margins and leverage levels simple.
In a nutshell, when it comes to non-share CFD instruments, you pay a spread. For all share CFDs (like share CFDs on the Australian market) you pay a commission.
Share CFDs with IG
What we love about the IG share CFDs is they provide the full list you can trade via both PDF and Excel sheet.
This means you can upload the list to your charting program for backtesting purposes.
For example, if you use Metastock or AmiBroker, then you can create a custom list using the excel sheet and run your explorations on their full list. So easy.
The table below represents a handy overview of their share CFDs. Please note, they have a lot more markets to trade than what you see below.
For example, IG offers all constituent shares of the S&P500 index as well as the Footsie 350 index.
Forex CFDs with IG 
IG covers nearly every conceivable Forex pair including Forex majors, Forex minors, exotics and more. Not only that, but the transparency they have on their pricing is second to none.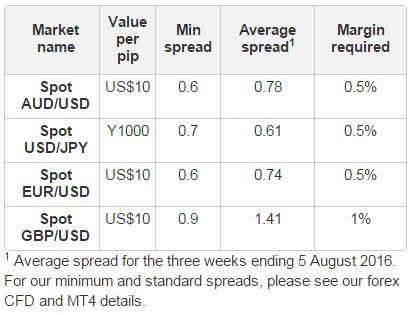 Index CFDs with IG
IG offer both cash and futures based Index CFDs. This flexibility is handy for those who want the options. They also clearly state what their spreads are at different market hours.
For example, the Aussie 200 index can be traded 24 hours, but due to liquidity at various times, they adjust the spread accordingly.
What is interesting for Australian based CFD traders is the Australia 200 index has a minimum tick value of $5AUD. Nearly every other CFD broker offers the Aussie 200 index CFD at $1 per point movement. Not a biggie, but if you have a small account, it could be a big decision.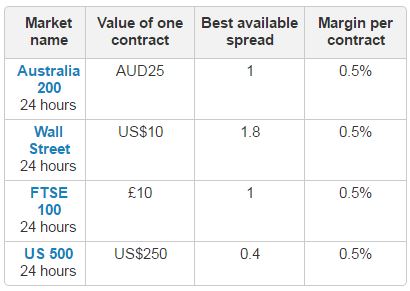 Commodity CFDs with IG
IG provides commodity CFDs across energy, precious metals, softs and bonds. None of the contracts has a fixed expiry date.
As a general rule, the most frequently traded commodities are the precious metals (Gold and Silver) and the other favourite product is Crude Oil. You can trade both Brent and US Crude contracts.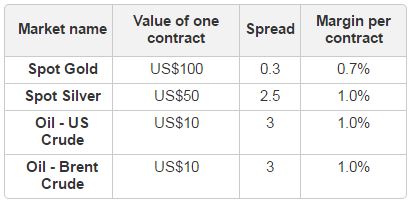 Leverage available with IG
Leverage levels in 2017 have been heading lower around the globe.
Forex traders in Japan cannot trade at greater than 25 to 1 leverage.
Cyprus mandated the default leverage at 1:50 for new FX and CFD traders.
IG has a maximum leverage on the account set at 200 to 1.
Trading at higher than 200 to 1 leverage may seem like a good idea for those who like to gamble their account, but it truly isn't necessary. Why gamble with your hard earned money. There is no need for it.
IG provides guaranteed stops, providing an element of protection to the downside. Also, they run a tiered margining system for those who trade larger positions.
Range of markets with IG Australia
IG Markets offer the full suite of the more common markets including:
Forex
Indices
Share CFDs
Commodities.
In addition to the mainstream markets, IG provides access to some interesting ones including:
AUD Denominated CFDs
Sectors
Digital 100s
Options
Interest Rates
Bonds
Bitcoin
ETPs
IPO grey markets
Sunday trading on the FTSE, Germany 30 and Wall Street
IG digital 100s
IG has gone above and beyond to create a suite of products to appeal to every trader. Offering the ability to trade on Sundays as well. Now that is a hard-core CFD broker.
Reputation, security and awards won by IG
IG Markets is considered the worldwide leader for CFD traders. They have won many awards and are the largest CFD broker in the Australian market with around 37% market share with CFD traders. IG has over 150,000 clients globally and implement safe client money handling procedures. IG lead the way in headcount, with over 1,400 staff in 15 offices (as of May 2016) globally.
Being publicly listed, you'll find all the necessary records to track how they are going. You can view their share price for further information about their quarterly and yearly results. It is important also to state that IG is both ASIC and FCA regulated.
Reviewing the awards IG has won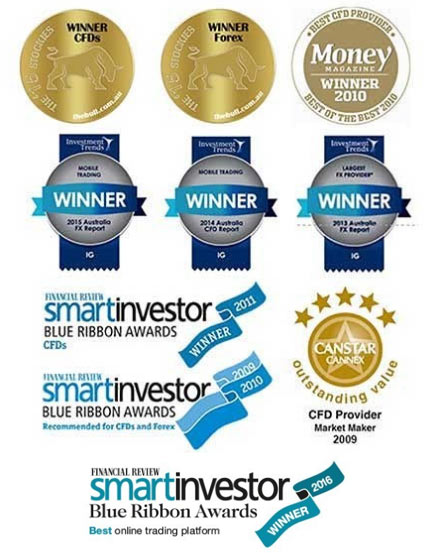 Who are the IG analysts?
When reviewing the list of analysts IG have on their staff, it is hard not to be impressed.
Here is a list of the analysts from around the globe starting with Australia:
Chris Weston – Melbourne
Chris Beauchamp – London
Joshua Mahony – London
Jingyi Pan – Singapore
Shaun Murison – Johannesburg
Every day the IG team of analysts are broadcast via TV, quoted in newspapers and get interviews on the radio.
The IG analysts cover the whole gamut of fundamental analysis, technical analysis and key economic news-based information.
What about Trading education at IG
IG have numerous opportunities to become a more informed trader.
They have an extensive library of trading education videos including:
Share trading with IG
Australian insights
Global insights
Technical analysis
General trading education
These aren't your average videos, but they have spent the time building their media platform and are putting out high-quality videos on a daily basis.
Also, you can view:
Trading Webinars
Market analysis webinars
Technical analysis webinars
Articles, guides, whitepapers and eBooks
A basic CFD education program
Does IG have any account opening bonuses or special promotions?
When making a review of the account opening bonuses available at IG Australia, we noticed their refer a friend promotion.
IG's refer a friend allows you to receive up to $1,000 cash and your friends will each receive $100 cash once they meet the trading requirements.
As for other bonuses available in 2018, it was hard to find any on their website. It might be best to ask them directly when you go to open a live trading account.
What are the top 3 features of IG as a Broker?
You can start with lower minimums to get the ball rolling.
New to trading CFDs? Want to dip your toe in the water and see how cold or warm it is? IG have you covered.
They allow new clients to trade with reduced risk and lower minimums.
What is the IG CFD Introduction Programme about?
It means if you are trading Aussie share CFDs (such as BHP), IG will allow you to trade for $AU1 for a trade size 50% of the normal size.
In the next four weeks, you can trade Aussie share CFDs from $2 and $5 per side.
Essentially, in the first six weeks, you can test your strategies, get the ball rolling and get familiar with the platforms at a reduced commission rate. That's outstanding in our opinion.
2. You get access to over 10,000 products from the one account
One of the greatest benefits of trading with CFDs is the ability to access so many trading products from the one account. IG allows you to access over 10,000.
The ability to access all the global markets from the one account makes your life easier.
3. They explore and look for  products their clients would love to trade
Running a trading business is expensive. Just to get the feed in on certain products can be an expensive monthly fee.
Not only does IG provide markets on 10,000 products globally, but they experiment and make markets on Bitcoin, versions of Binary Options and other such products.
Conclusion
IG Markets are considered the worldwide leader in trading technology among Forex and CFD traders. Recently, Investment Trends noted they control 37% of primary relationships among current CFD traders, edging out CMC Markets by 16%. This puts IG in the number 1 position in Australia.
Hopefully, our IG Australia Broker Review has shed some light on whether IG Australia is suitable for your specific trading needs or not.
While there are a range of CFD Brokers and Forex Brokers around, the best way to see if a broker is right for you is to download their trading platform.


LearnCFDs.com may be compensated by brokers listed via the links on this site and earn a small commission.
Disclaimer: Trading Contracts for Difference carry risk where you can lose more than what you start with. View our full disclaimer here.