IC Markets has been a front-runner in the MT4 and cTrader space. You will note in this IC Markets broker review that they were one of the first to embrace the True ECN mantra and zero pip spreads.
In this forex broker review, we'll endeavour to see if IC is the best Forex broker for you in 2018.
At the end of 2016, IC Markets notified the media their Forex trading volumes had continued to grow. In November, they reported their FX volumes hit $188USD Billion for the month.
So it might be early days for 2018, but we are expecting some exciting things from IC Markets going forward.
While we are not going to talk about it specifically in this review, it would be fair to say expansion and acquisition are on the cards for this leading Australian Forex broker.
IC Markets broker review – The important stuff
The first Forex Broker in Australia to offer True ECN spreads
IC Markets offer both MT4 and cTrader platforms
Over 50 different liquidity feeds supplying FX pricing
Claim to have negative spreads as low as -0.3
Best Trading Platforms on offer by IC Markets
IC Markets have focused on being the best Forex broker in Australia. As a result, they have MetaTrader 4, MetaTrader 5 and cTrader.
Let's review their trading platforms in more depth here.
IC Markets MT4 platform review
IC Markets provide access to MT4 for the desktop, iPhone, Mac and Android devices.
Another great benefit of trading with IC Markets is they give you access to advanced tools within MT4. Whilst some MT4 Forex Brokers have around 9 to 11 of these tools, IC provides access to 20 MT4 add-ons.
Not everyone is aware of the time-saving MT4 shortcuts available on the platform too.
IC Markets MetaTrader 5 platform review
IC Markets provide access to MT5 for the desktop, iPhone, Mac and Android devices.
IC Markets cTrader platform review
IC Markets allow you to access the cTrader platform across all devices, just as they do with their MT4 platforms.
You can access the cTrader platform via:
Web
Mobile web
iPhone
Android
cTrader is definitely one of the most innovative platforms in the market today.
MT4 Forex Trading Signals
IC markets provide access to Myfxbook Autotrade and ZuluTrade. They also allow any Expert Advisor (EAs) to run on their platforms and servers. To complement the running of your EAs, you do get access to a rock-solid VPS too.
IC Markets spreads, commissions, margins and leverage
To start with, IC Markets provides access to 90 trading instruments including Forex, Indices, Commodities and CFDs.
IC Markets have two different trading accounts to choose from including:
Standard account
True ECN Account
cTrader Account
Islamic Account
Let's review the IC Markets standard account
Standard account commission
The standard account is commission free trading on all the MT4 products including 64 currency pairs.
Standard account spreads
As you can in the table above, the spread on the EURUSD is 1 pip, which is quite standard for Australian Forex brokers. Many years ago, the GBPUSD (Cable) used to have spreads up to 5 pips (another broker). This is going back to 2005 when we first started trading Forex.
Nowadays you can see IC Markets have GBPUSD spreads at 1 pip. That's fair.
Standard account margins & leverage
Margins at IC Markets start at 0.20%, providing leverage up to 500 to 1.
Let's review the IC Markets ECN and cTrader accounts
True ECN account commission
The True ECN account attracts a commission of $7USD round trip. This means for each full lot ($100,000) your commission will be $3.50USD for a buy and $3.50USD for a sell (at the full lot value).
cTrader account commission
The True ECN account attracts a commission of $6USD round trip. This means for each full lot ($100,000) your commission will be $3.00USD for a buy and $3.00USD for a sell (at the full lot value).
Pro account margins & leverage
Margins at IC Markets start at 0.20%, providing leverage up to 500 to 1.
Reviewing the IC Markets Forex CFDs
IC Markets offers Forex traders access to 80 currency pairs.
One of the things we like about their MT4 platform is when you download it, the market watch window comes populated with their complete product list.
Other brokers provide a reduced list and then make you add the products you want one by one.
For new traders, this is a cause for frustration and usually, involves a call to the support desk to add them.
Reviewing the IC Markets Index CFDs
IC Markets have 14 index futures you can trade via MT4. As you can see in the table below, every key global index is covered with the various tick value, minimum and maximum trade size and the trading hours.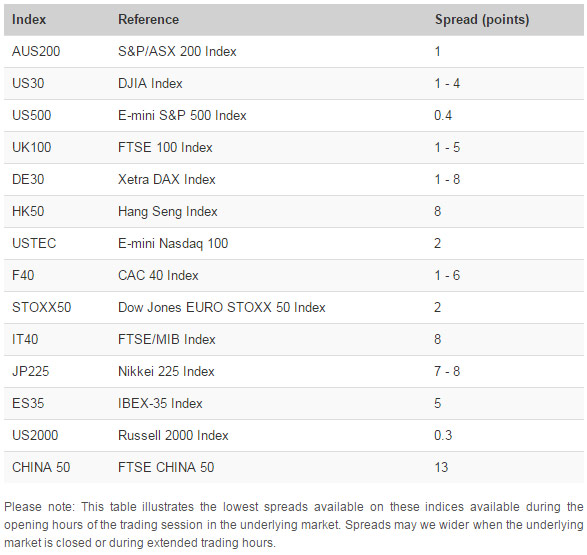 You can click the other reviews here to see how IC Markets reviews against IG Australia, AxiTrader and GO Markets.
Reviewing the IC Markets Commodity CFDs
IC Markets provides commodity CFDs across energy, precious metals and some softs. None of the contracts has a fixed expiry date.
As a general rule, the most frequently traded commodities are the precious metals (Gold and Silver) and the other favourite product is Crude Oil. You can trade both Brent Crude and WTI Crude contracts.
Leverage available with IC Markets
Leverage levels in 2017 have been heading lower around the globe.
Forex traders in Japan cannot trade at greater than 25 to 1 leverage.
Cyprus mandated the default leverage at 1:50 for new FX and CFD traders.
IC Markets have a maximum leverage on the account set at 500 to 1.
Trading at higher than 200 to 1 leverage may seem like a good idea for those who like to gamble their account, but it truly isn't necessary. Why gamble with your hard earned money. There is no need for it.
Range of markets with IC Markets
IC Markets Markets offer the full suite of the more common markets including:
Forex
Indices
Commodities
Precious Metals
What types of trading accounts do IC Markets have?
Via their MT4 platform, you can start off with a demo trading account to see what their price feeds are like.
IC Markets allows you to start with a demo trading account to access either CFDs or Forex.
When opening a live CFD or Forex account with IC Markets, you can open the following accounts:
Individual account
Corporate and trust accounts
Joint accounts
Self-Managed SuperFund accounts
Reputation, security and awards won by IC Markets
IC Markets were initially established in 2007 in Sydney, Australia and have been a leading MT4 Forex broker, ECN broker and cTrader broker ever since.
Reviewing the awards IC Markets has won
In the 2014 Investment Trends Australia FX report, IC Markets had the strongest brand association with being "trustworthy" among current FX traders.
They have also won the financial institution of the year at the Asia-Pacific Financial Investment Association and various other awards going back to 2012.
Who are the IC Markets analysts?
IC Markets doesn't seem to have any analysts working with them or putting out material for the financial press.
Instead, they have a number of educational tools available on their website in the training area.
We have noticed they align with some of the best Forex educators and Forex fund managers to provide training. See below.
What about Trading education at IC Markets
IC Markets have a range of educational material including:
Trading guides
Forex infographics
Platform training tutorials on MT4
Platform training tutorials on MT4
Platform training tutorials on cTrader
Also, you can view some recorded webinars conducted by Trade View Investments CEO, Robert Bubalovski. Robert is a dedicated Forex system trader and runs his own trading room.
Does IC Markets have any account opening bonuses or special promotions?
When making a review of the account opening bonuses available at IC Markets Australia, we couldn't notice anything obvious.
Running a search came up empty. So if you are looking for an account opening bonus to trade Forex, then IC Markets may not be the best choice.
What are the top 3 features of IC Markets as a Broker?
1. Ability to trade with a True ECN broker with zero pip spreads
2. Your choice of MT4, MT5 or cTrader Forex trading platforms
3. Depth of liquidity providers
Conclusion
IC Markets is committed to being the Number 1 Forex broker in the world. Their monthly Forex trading volumes are a testimony to their focus.
We are expecting the good run to continue with IC Markets.
Hopefully, our IC Markets Forex Broker Review has shed some light on whether IC Markets Australia is suitable for your specific trading needs.
While there are a range of CFD Brokers and Forex Brokers around, the best way to see if a broker is right for you is to download their free demo.
Disclaimer: Trading Contracts for Difference carry risk where you can lose more than what you start with. View our full disclaimer here.