Our review of TradeDirect365 is going to be straight to the point and no frills. The reason we are reviewing this CFD and Forex broker in this fashion is that is up front what this broker is about.
TradeDirect365 are one of the newest entrants into the Australian CFD/Forex market. Over the years, traders have unanimously voted to suggest they just want a simple platform with which they can access the global markets. TradeDirect365 have delivered.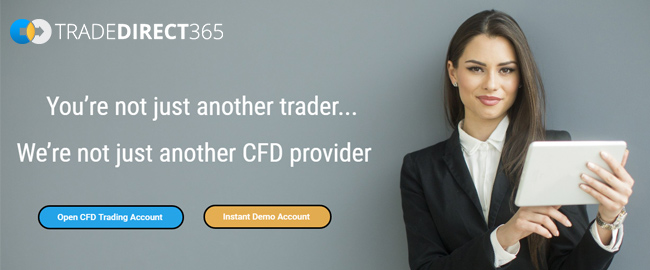 TradeDirect365 have focused their marketing efforts on the leading trading educators in Australia. You may not see a lot of their marketing unless you are part of one of the main trading educators. It is these relationships that have helped TradeDirect365 become one of the best-kept secrets for Forex and CFD traders in Australia.
The TradeDirect365 Broker review below is new for 2018. You will have enough information to see if TradeDirect365 is right for your trading needs.
TradeDirect365 broker review – The important stuff
You get access to around 500 ASX share CFDs, and you can short all of them.
They have one of the simplest trading platforms of all CFD & Forex brokers in Australia.
You can trade the Aussie 200 Index with a fixed spread 'during hours' of just 0.9points.
ASX share CFD brokerage is a crazy low $5 minimum or 0.07%
How good are the TradeDirect365 Australian trading platforms?
The team at TradeDirect365 are traders who know the value of simplicity when it comes to trading the global markets. As a result, their trading platform has all the important elements but none of the stuff you are never going to use.
There has never been an easier to use trading platform available online.
The main TradeDirect365 trading platform is very intuitive and incredibly user-friendly.
You can also access the MT4 platform through them for those who love MT4 and being able to code your own EAs.
Let's review their trading software in more detail below.
TradeDirect365 Main Trading Platform – CloudTrade
If you love feature-rich without having to learn a million buttons, then the TradeDirect365 platform is perfect for you.
TradeDirect365's core trading platform is a web-based, intuitive trading application which looks very modern. It is extremely flexible and can cater to the needs of the beginner and advanced traders alike.
While they keep things simple, you still get access to:
Guaranteed stop loss orders
Easy to use limit, stop, take profit and if-done orders
Free demo account available at all times
Access to many of the world's stock exchanges to trade as a CFD
Full-featured charting program
Easy to use order tickets
Ability to create your own watchlists
Automated trailing stop loss orders
Excellent record keeping and reporting features
TradeDirect365's trading platform is available on all devices
TradeDirect365 provides access to their core trading platform via iPhone, Android mobile, iPad, Android Tablet and Windows Tablet.
No matter your device, TradeDirect365 have you covered.
Other trading platforms on offer from TradeDirect365
TradeDirect365 provide access to MT4 as well as CloudTrade.
The only difference with MT4 compared to CloudTrade is the number of global markets you have access to. With TradeDirect365's MT4 you cannot trade the individual share CFDs. But you can access Forex, Index and Commodity CFD markets.
If you are not sure which platform is right for you, then definitely give their CloudTrade platform a go. You will notice how simple and intuitive it is. You may be pleasantly surprised that it becomes your primary go-to platform.
TradeDirect365 commissions, margins and leverage
TradeDirect365 are truly the best-kept secret for active ASX share CFD traders.
Their commission starts at the crazy-low level of $5 minimums. As of Jan 2018, they suggest this will save you around 30% of your commission fees compared to ASX CFD brokers.
TradeDirect365 also specialise inultra-loww fees on the Aussie 200 index with spreads from 0.9 points fixed during market hours. The out of hours spread is also low.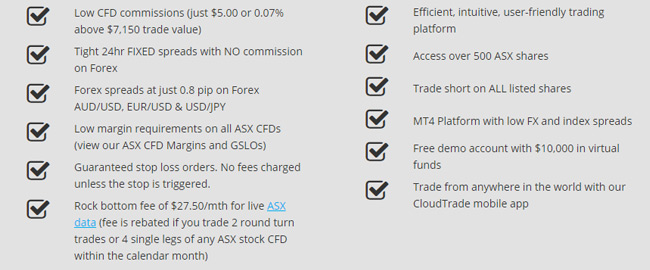 Share CFDs with TradeDirect365
One of the beauties of TradeDirect365 is the ability to access so many global markets.
A big focus for TradeDirect365 is the Aussie share CFD offering, boasting more than 500 share CFDs to trade on the ASX.
Also, you get to trade short on ALL listed share CFDs. You cannot get access to such a large shortlist anywhere else in 2018. They really do lead the way in this regard.
Like all CFD brokers in Australia, if you are trading the Aussie share CFDs, then you will have to pay an exchange fee. The reason for this is their prices derive from the exchange and they pass those fees on to you.
The fee is the standard $27.50 per month, and if you do four trades in a calendar month, they will reimburse the monthly fee.
The breakdown of commissions is in the table below for Aussie Share CFDs.
When trading ASX share CFDs with TradeDirect365, you will find yourself using the search window all the time. Obviously, with over 500 stocks, you need something to bring up the stocks quickly and that is precisely what the search function is for.
Forex CFDs with TradeDirect365 
The biggest advantage of TradeDirect365 over the likes of CMC Markets, IG Markets and Pepperstone is their fixed spreads across their Forex pairs.
Your advantage here is when the market is volatile during major news releases, you get access to a constant fixed spread.
So instead of the market trading 'thin' and the spread widening to 20+ pips, you are sitting tight on the AUDUSD, EURUSD and USDJPY at just 0.8pips fixed.
Your spread won't be jumping around like a cat on a hot tin plate, but instead, you will be executing trades from just 0.8pips fixed.
With TradeDirect365 you get access to over 40 Forex pairs, which is pretty standard. You can access those from either their CloudTrade platform or their MT4 platform.
Index CFDs with TradeDirect365
Love low spread access to trade the Aussie 200 index CFD? Perfect. TradeDirect365 provide access to the Aussie 200 index CFD from a low 0.9points fixed spread during the Aussie day session.
You get access to all the index CFDs from around the globe including:
Aussie 200 cash
Aussie 200 future
The UK FTSE index
Germany's DAX index
Nikkei
S&P500
Dow Jones
Nasdaq
French Cac40
Euro Stocks 50
Hong Kong 42
plus many others
It might be a subtle addition, but you will notice you can trade the Aussie 200 Index future CFD as well. A commission is charged to trade the Aussie 200 future CFD and they have kept the price ultra low too.
Commodity CFDs with TradeDirect365
Most traders prefer to trade the main precious metals and Crude. As a result, TradeDirect365 provide access to the following commodity CFDs:
Gold
Silver
US Crude
Brent Crude
Always good to keep things simple. Margins for Gold are set at 1%, so $100 controls a $100,000 position. Silver is 2%
Leverage available with TradeDirect365
Leverage levels in 2017 have been heading lower around the globe.
Forex traders in Japan cannot trade at greater than 25 to 1 leverage.
Cyprus mandated the default leverage at 1:50 for new FX and CFD traders.
TradeDirect365 have a maximum leverage on the account set at 200 to 1 on the Forex pairs. This means you need 0.5% margin upfront to control the whole FX position.
Leverage on share CFDs can be as high as 20 to 1 depending on which share CFDs in which countries you are trading. This means you need a minimum of 5% margin to open a position. Some of the stock requires more margin, which is set on a sliding scale.
Trading at more than 200 to 1 leverage may seem like a good idea for those who like to gamble their account, but it truly isn't necessary. Why gamble with your hard earned money. There is no need for it.
TradeDirect365 provides guaranteed stops, providing an element of protection to the downside. There is an extra cost for this, but well worth it during volatile times.
Range of markets with TradeDirect365 Australia
TradeDirect365 Markets offer the full suite of the more conventional markets including:
Forex
Indices
Share CFDs
Commodities
Once again, the main benefit of trading with TradeDirect365 is the simple, intuitive trading platform and low fixed spreads on the Aussie 200 index and Forex pairs. You also get $5 minimums to trade Aussie share CFDs.
The screenshot above highlights the range of markets available via TradeDirect365. Placing a trade, accessing their charting or finding a new stock is very easy.
What types of trading accounts do TradeDirect365 have?
With access to over 10,000 trading instruments globally, let's take a look at the account types TradeDirect365 provide.
TradeDirect365 allow you to start with a demo trading account to access either CFDs or Forex.
When opening a live CFD or Forex account with TradeDirect365, you can open the following accounts:
Individual account
Corporate and trust accounts
Self-Managed Superfund accounts
Joint accounts
Reputation, security and awards won by TradeDirect365
If you are looking for a reliable broking company to handle your CFD and Forex trades, then TradeDirect365 could be the broker you are looking for.
The company was started by Davin Clarke, who is a successful trader in his own right.
Having reviewed every Forex and CFD broker in Australia while trading full-time, Davin was unable to find one he liked. So he went about creating his own CFD brokerage firm that had everything he wanted as a full-time trader.
So when they say TradeDirect365 is a broker suitable for both beginner and professional traders alike, they really mean it.
Reviewing the awards TradeDirect365 has won
TradeDirect365 haven't yet won any awards, but they must be very close to winning the best value CFD broker in Australia with such low brokerage rates. It isn't about having low brokerage rates, but the fact they are their standard rates.
You don't have to 'qualify' to get the low CFD brokerage rate, it starts at $5 minimums for everyone.
Who are the TradeDirect365 analysts?
TradeDirect365 have an in-house analyst who runs daily technical analysis market reviews. Braden Gardiner is extremely passionate about the markets and has been trading for many years.
While you won't see him on Sky News or CNBC, he still has one of the most comprehensive daily market video updates available. In order to check out his daily market commentary, you will have to head over to the TradeSetup YouTube channel.
What about Trading education at TradeDirect365
TradeDirect365 cover the essential items when it comes to education.
You will notice on their YouTube channel, they have a range of platform tutorials.
In addition, you will see some webinar training sessions provided by the likes of Justine Pollard, Alan Oliver and Rob Shelley to name a few.
In fact, Alan Oliver features a few times with his webinar education programs. Well worth checking out.
Also, their blog posts are content rich and informative, covering all the essential elements of what it takes to be a successful trader.
Do TradeDirect365 have any account opening bonuses or special promotions?
When reviewing the account opening specials for TradeDirect365, we noticed at the start of 2018 they had a cashback offer available. But it was just for January 2018. So best to check with their support team to see if they have any current offers.
Often they don't run an account opening special and there could be a reason for that. Quite simply, they have an incredibly low standard brokerage rate for Aussie share CFDs which requires no set trading volumes to meet.
The TradeDirect365 platform is, therefore, perfect for those who are looking to test a share CFD trading system with low brokerage.
What are the top 3 features of TradeDirect365 as a Broker?
1. The simplicity of the CloudTrade trading platform
We've mentioned it a few times in this TradeDirect365 review for 2018. Their platform is intuitive and extremely user-friendly.
It won't take you long to get your head around how to place trades, put in stop losses or bring up a chart.
Unlike many other complicated platforms, you will find you are up and running in no time with TradeDirect365.
2. Fixed spreads on the Aussie 200 index at 0.9 points
Nearly every CFD broker in Australia and around the world we reviewed has fixed 1 point spreads on the Aussie 200 index.
It might not sound like a lot, but a 10% reduction is better for you than it is for another broker like AxiTrader.
This discount sort of sums up the experience with TradeDirect365. You get access to low fixed spreads and low brokerage rates on your whole account.
3. You can access over 500 share CFDs on the ASX and short them all
As of January 2018, the Aussie market has enjoyed a beautiful run-up, fueled by the Materials, Industrials and Resources sectors (telcos not so much). But at some stage, the market will pullbackll back and people will be scrambling to hedge their longs or speculate with new short positions.
With TradeDirect365, you get access to a large list of shortable Aussie share CFDs.
In fact, when reviewing the top CFD brokers in Australia, we couldn't find another broker which had such a huge short list.
We believe this is a stand-out feature to complement their other fantastic benefits.
Conclusion
TradeDirect365 are one of the lowest priced CFD & Forex brokers in Australia. They are run by a great group of people who are well respected in the trading arena.
They are focused on growing the brand and offering the lowest CFD brokerage rates, the lowest fixed spreads and a wide range of markets.
We've covered a lot in this TradeDirect365 Australia Broker review and so now is the time to move forward and open a demo or live trading account.
Jump onboard, test their platform, open it up on your mobile devices, check out their spreads and place a few trades. You may find out you like them.
While there are a range of CFD Brokers and Forex Brokers around, the best way to see if a broker is right for you is to download their free demo.
Disclaimer: Trading Contracts for Difference carry risk where you can lose more than what you start with. View our full disclaimer here. We may earn affiliate commissions when you click on links on this site.