Over the years, Synergy FX has been a dedicated MT4 Forex broker with their edge coming from their in-house Expert Advisors. That is why we are quite interested in running this Synergy FX broker review, updated for 2018, so you have all the info to see if Synergy is the best Forex broker for you.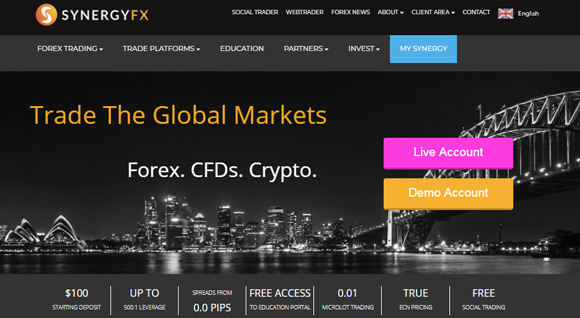 In 2018, Synergy continues to innovate with their product set with the development of their Forex Funds Management Service and their IchiScalper trading EA.
Also, they have invested in providing the educational tools to help their clients become better, more consistent traders.
With the addition of Daniel Bent, who heads up their FX desk, their liquidity feeds and spreads are some of the best in Australia.
Synergy FX broker review – The important stuff
One of Australia's leading MT4 Forex brokers since 2011.
They are proud of their liquidity feeds and offer a true ECN execution service.
Synergy is one of the few FX brokers fully qualified and regulated by ASIC to manage clients' assets.
An excellent client education area with cutting-edge resources.
Best Trading Platforms on offer by Synergy FX
Synergy FX have focused on being the best MT4 straight through processing Forex broker in Australia.
As a result, they cater more to the advanced professional trader. But standard accounts are also available. No matter which account you choose, the team at Synergy are open, honest and transparent in all their dealings.
Let's review each of the tools within their main MT4 platform here.
MT4 for PC
Considering it is the world's number 1 Forex platform, MT4 for the PC is the core offering from Synergy FX.
You get access to one-click trading, drag and drop charting and of course the standard trading analysis or the numbers of your trading history.
Things like the average win, average loss, consecutive wins and losses, expectancy and Sharpe ratio to name a few.
You can view the MT4 cheat sheet too.
All handy numbers to keep on top of.
MT4 for Mac
For those who love their Macs, Synergy FX has you covered with their version for the Mac.
MT4 for iPhone
Pretty standard offering nowadays. You download the MT4 app on your iPhone, punch in the login details for either a demo or live account and you are up and running.
MT4 for Android
For those on Samsung or any other version of mobile phone not on the iPhone network, Synergy has you covered with their MT4 for Android too.
MT4 Forex Trading Signals
Synergy FX worked with a team of quants to develop their own commercial-grade MetaTrader Expert Advisor (EA).
The result is IchiScalper 2.0.
IchiScalper has been available for over four years and is programmed to take advantage of the sideways trending AUDUSD Forex pair.
IchiScalper 2.0 is available exclusively through Synergy FX. Once you have y our live account you can talk with the team about downloading, installing and running the EA live on your account.
You have the provision to set your own risk management levels too.
Synergy FX spreads, commissions, margins and leverage
To start with, Synergy FX provides access to 35 currency pairs including all the key majors and minor FX pairs. Plus you can trade Index CFDs, Commodity CFDs and Bitcoin CFDs.
Synergy FX has two different trading accounts to choose from including:
Standard account
ECN Pricing Account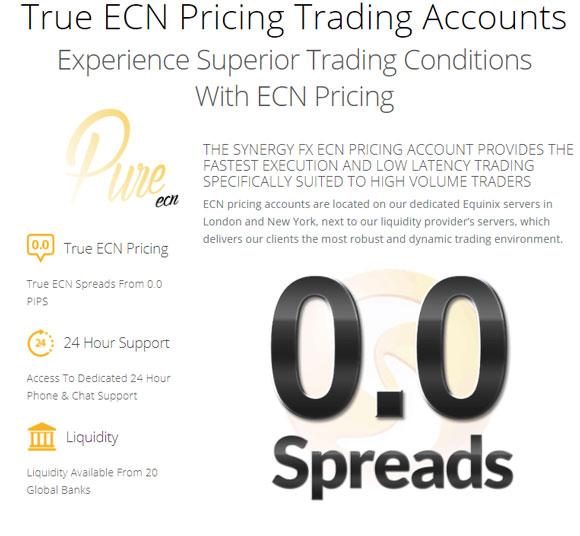 Let's review the Synergy FX standard account
Standard account commission
The standard account is commission free trading on all the MT4 products including their Bitcoin CFDs.
Standard account spreads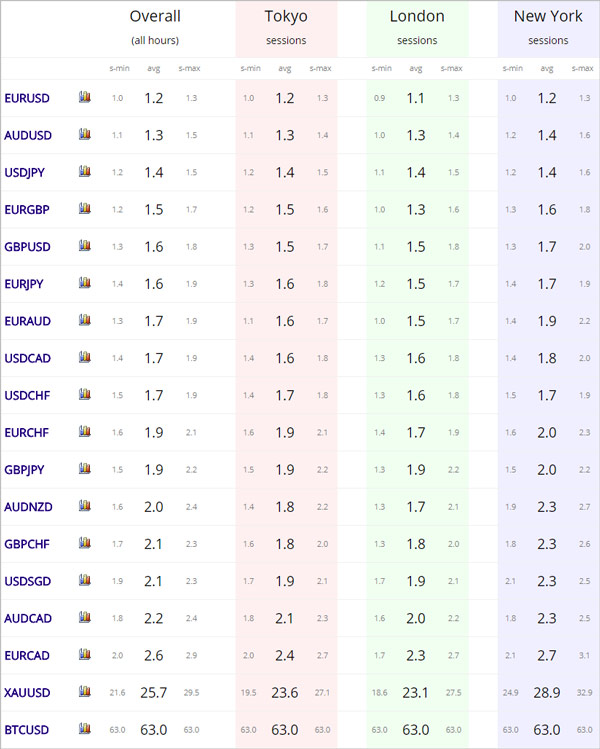 As you can see in the table above (captured on 20 April 2018), the spread on the EURUSD is 1.2 pips average.  So for those who like to trade many times a day on 5min or 15min charts, Synergy's spreads are good.
You can also see their GBPUSD spread averages around 1.6 pips, which is more than fair.
Standard account margins & leverage
Margins at Synergy FX start at 0.20%, providing leverage up to 500 to 1.
Let's review the Synergy FX ECN Pricing account
ECN Pricing account commission
The pro account attracts a commission of $7USD round trip. This means for each full lot ($100,000) your commission will be $3.50USD for a buy and $3.50USD for a sell (at the full lot value).
ECN Pricing account spreads
The table above highlights two important numbers for traders to be aware of. You can see both the 'as low as' spreads and the average spreads.
It's great that Synergy FX shows the average spreads because that is much closer to the mark.
You will have fleeting moments of low liquidity and low volume where you will see zero pip spreads. Fantastic. But in reality, your spreads will be higher.
ECN Pricing account margins & leverage
Margins at Synergy FX start at 0.20%, providing leverage up to 500 to 1.
Reviewing the Synergy FX Forex CFDs
Synergy FX offers Forex traders access to 35 currency pairs plus 10 Index CFDs, 3 Commodity CFDs and Bitcoin CFDs.
One of the things we like about their MT4 platform is when you download it, the market watch window comes populated with their complete product list.
Other brokers provide a reduced list and then make you add the products you want one by one.
For new traders, this is a cause for frustration and usually, involves a call to the support desk to add them.
A new addition to the Synergy FX line-up is their Bitcoin CFDs
As the price of Bitcoin took off in late 2017 and the start of 2018, Forex brokers wanted to get in on the action.
Synergy FX started offering Bitcoin CFDs to their client base of active traders. The demand was just too high.
Below you can see a screenshot of their Bitcoin CFD pricing via their MT4 platform. What a wild roller coaster ride the price of Bitcoin has been.
As you can appreciate, traders need volatility and movement in order to access opportunity in the markets.
But don't get fooled, Bitcoin has been one of the most volatile assets in the last decade and with that comes an extreme amount of risk. Trading Bitcoin CFDs is risky.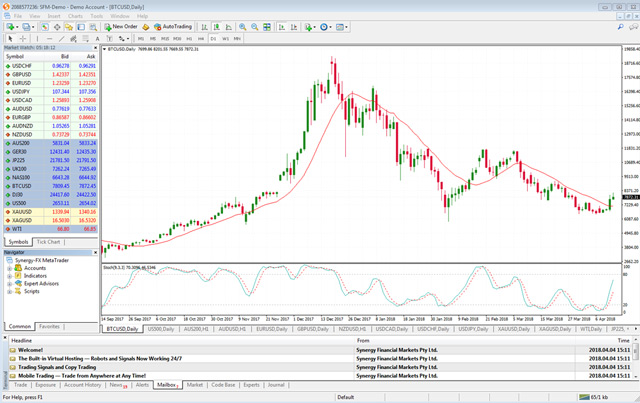 Reviewing the Synergy FX Index CFDs
Synergy FX has 10 index CFDs you can trade via MT4. As you can see in the table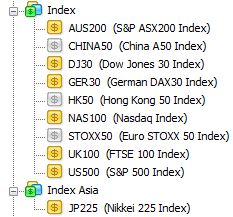 below, every key global index is covered.
Synergy FX don't have as much flexibility with the range of Indices as someone like IG Australia have, but it can be expected when you list everything in MT4. MT4 doesn't have the flexibility of adding thousands of trading products. You will find it like for like when comparing IG's MT4 with Synergy FX's though.
Reviewing the Synergy FX Commodity CFDs
Synergy FX provides commodity CFDs across energy and precious metals. None of their contracts has a fixed expiry date.
As a general rule, the most frequently traded commodities are the precious metals (Gold and Silver) and the other favourite product is Crude Oil. You have access to WTI Crude contracts.
Leverage available with Synergy FX
Leverage levels in 2018 have been heading lower around the globe.
Forex traders in Japan cannot trade at greater than 25 to 1 leverage.
Cyprus mandated the default leverage at 1:50 for new FX and CFD traders.
Synergy FX have a maximum leverage on the account set at 500 to 1.
Trading at higher than 200 to 1 leverage may seem like a good idea for those who like to gamble their account, but it truly isn't necessary. Why gamble with your hard earned money. There is no need for it.
Range of markets with Synergy FX
Synergy FX Markets offer the full suite of the more common markets including:
Forex
Indices
Commodities
Precious Metals
Bitcoin CFDs
What types of trading accounts does Synergy FX have?
Via their MT4 platform, you can start off with a demo trading account to see what their price feeds are like.
Synergy FX allows you to start with a demo trading account to access either CFDs or Forex.
When opening a live CFD or Forex account with Synergy FX, you can open the following accounts:
Individual account
Corporate and trust accounts
Joint accounts
Self-Managed SuperFund accounts
Reputation, security and awards won by Synergy FX
Synergy FX was initially established in 2011 in Sydney, Australia and have been one of the best MT4 Forex brokers ever since.
Reviewing the awards Synergy FX has won
In 2015, Synergy FX won the Best Forex Broker Australia awarded by Global Financial Market Review.
They have also won the financial institution of the year at the Asia-Pacific Financial Investment Association and various other awards going back to 2012.
What about Trading education at Synergy FX
Synergy FX have a range of educational material including:
Trading guides
Forex infographics
Platform training tutorials on MT4
As a Synergy FX client, you get access to their education portal, which they refer to as their Forex Learning Centre.
There you will find over 30 forex trading video tutorials all designed to help you become a better trader.
They cover things like:
Forex trading tools
Forex trading strategies
MT4 tutorials
Advanced trading strategies
How to trade commodities and precious metals
Benefits of using an ECN price feed
Pros and cons of social trading and much more.
Does Synergy FX have any account opening bonuses or special promotions?
When making a review of the account opening bonuses available at Synergy FX Australia, we noticed they regularly have Virtual Private Server (VPS) and referral based promotions running regularly.
As for their recent Forex bonus account opening offers, you are best contacting their team direct to ask about current offers.
What are the top 3 features of Synergy FX as a Broker?
Synergy FX Liquidity & ECN Pricing Account
Synergy has a team of Forex professionals and has worked hard to secure more than 20 liquidity feeds into their MT4 platform. Their pricing on the ECN account is well worth checking out.
2. They create and run their own Expert Advisors & Forex funds management
To create a successful EA requires deep knowledge of the markets and combining with a quant team to backtest to find the best combination of elements.
Clients of Synergy have the option to trade on their own or they can put the IchiScalper EA to use. Also, clients can apply their own position sizing and money management rules to have risk management suited to their style.
The fact you can work with their staff and ask questions about how they built the IchiScalper EA will be a tremendous advantage to your results as a trader. You can ask the key questions that may help you automate your own trading.
3. Their free trading education portal
Clients of Synergy get immediate access to their trading and education portal. There are dozens of training videos all designed to help you become a more efficient trader.
Ultimately, you want to work with a team that has the technology, experience and resources to help you succeed in the markets. Synergy has all of that and can help you tap into their automated trading tools or provide the resources for you to build your own. The choice is yours.
Conclusion
Synergy FX has a solid team behind them focused on providing the liquidity and trading conditions to help you get to the next level.
They are committed to helping you get everything you need from a leading MT4 Forex broker.
Hopefully, our Synergy FX Australia Forex Broker Review has shed some light on whether Synergy FX Australia is suitable for your specific trading needs.
While there are a range of CFD Brokers and Forex Brokers around, the best way to see if a broker is right for you is to download their free demo.
LearnCFDs.com may be compensated by brokers listed via the links on this site and earn a small commission.
Disclaimer: Trading Contracts for Difference carry risk where you can lose more than what you start with. View our full disclaimer here.