Our Top Trading Accounts For You To Try:
Find the best forex trading books in 2018 here
[juiz_sps buttons="facebook, twitter, google, digg, weibo, linkedin, stumbleupon, mail"]
httpss://www.amazon.co.uk/gp/product/B0763GJNQC/ref=as_li_tl?ie=UTF8&tag=learncfds-21&camp=1634&creative=6738&linkCode=as2&creativeASIN=B0763GJNQC&linkId=2872fdc51b9aff1ba622efc67a8dde06
You are probably already aware of the fact that investing in the best Forex trading books is by far the most cost-effective investment you can make. Where else can you invest a mere $10-$30 and pick up Forex trading strategies from some of the world's best Forex mentors?
By far the biggest advantage of investing in a few Forex trading book is for the trading ideas you will gain from them.
While some of the Forex trading books mentioned below discuss one dedicated strategy, most will provide three to ten new Forex strategy ideas for you to test in the market.
Is there one Best Forex Trading Book?
Wouldn't it be great?
You just have to purchase one currency trading book and all your trading systems, ideas and your mindset will be laser focused and generating pips like nothing else.
The reality is far from that.
Trading Forex like a professional requires a combination of ideas, strategy, implementation, testing, building your confidence and then after a few years, combining all those elements with your own dedicated trading strategy.
You are not able to get this out of just one book.
That is why we will list a handful of books we believe are all-time classic Forex trading books.
The reason you will want these is you will need to revisit them several times throughout the year.
As you grow as a trader, your mind will have changed and you will see the Forex markets in a new way.
When you pick up one of the best Forex trading books, you will learn new ideas you can add to the strategies you are currently trading with.
Instead of picking the one best Forex trading book, let's take a look at the top few.
Top 5 Forex Trading Books You Must Read in 2018 Reviewed
Kathy Lien is one of the most popular Forex analysts in the world. Fortunately, Kathy has taken the time to write a few books including this regularly updated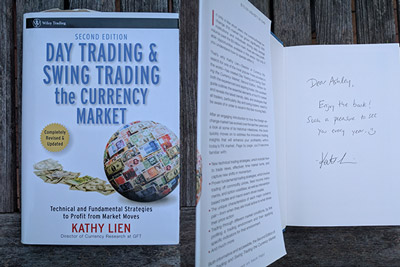 must-have Forex book.
I've actually got the second edition and have read it a number of times.
The key difference between Kathy and a lot of other traders is Kathy's intimate understanding of both the technical and fundamental aspects of the markets. Kathy can discuss the macro fundamental picture of any major currency pair in the world, but then identify key breakout levels for entry or exit criteria.
Forex trading is very much driven by the fundamentals, but it is the key technical levels the big banks and large institutional traders look for to see 'runs' in the market.
Kathy's book includes Forex trading strategies for both the fundamental and technical trader.
You will gain a very broad knowledge of the markets and be able to start implementing trading ideas with a Forex demo account after reading this book.
You will love the clear and concise way in which Jim is able to explain everything you need to know about Forex trading.
In his book, Jim runs through all the critical elements of Forex trading, including entry strategy, exit strategies, money management and the all-important trading psychology.
If you are starting out and want a book that covers the basics in a clear manner, then grab Jim's Forex basics book.
At the end of the book, you are presented with a basic trading system. You can use this as a way to build new Forex trading ideas or strategies of your own.
His Forex strategy in this book is not meant to be your bread and butter system, but instead, you can use it as a basis for future trading systems which are suited to your trading style.
Currency Trading for Dummies is more of an encyclopaedia of Forex basic, technical analysis, trading strategy and everything you need to know about the Forex markets. Even the stuff you had no idea you were supposed to ask 😉
As you know, the currency markets are driven by key fundamental data releases. Things like non-farm payrolls, PPI, central bank rates, FOMC meetings, CPI and GDP figures to name a few.
You need to be aware of the critical economic data releases and how that impacts on your Forex trading.
Currency Trading for Dummies will help you navigate the fundamental aspect of the FX markets with ease.
They also cover technical analysis, the patterns you may consider for your Forex systems, but not in the greatest of detail.
After all, it is hard to write a Forex book that covers everything in great details but isn't 1,000+ pages.
Once you have read this, you will be well aware of 85% of everything you need to know about the currency markets. The other 15% will be more specific trading strategies, which are covered in other books.
Grab this book as you will refer to it often if you are new to the Forex markets.
Our Top Trading Accounts For You To Try:
MT4 is the world's number one Forex trading platform. If you are involved in FX, then you will want to know all the tips and tricks to using MT4 in the best possible way.
In this book, Jim outlines a simple Forex trading method which is given away freely. You don't have to do anything else but purchase the book, adapt the trading style and test it in a simulated environment.
You can literally read the book, pull down his trading method, implement it within your own MT4 trading platform and be executing it live in the markets in no time.
But of course, you want to make sure you understand the risks associated with FX trading. If you are brand new to trading, then grab Jim's other introduction to FX book reviewed above.
For those who are more advanced, then you can still use his trading system as an idea generator for your own.
Take his methods and apply them to what you know to be true and fitting for your style of trading and personal time frame.
The other great thing about Jim's books is their simplicity. You don't have to sit there reading it for weeks before you turn the final page, but instead, you can have it read in one sitting.
Simple.
You may be looking for specific trading systems to add to your Forex Trading. This is not that book.
Instead, this book by Coullin is more of an approach. It is a set of ideas around the key components that make up what it takes to do well with Forex trading.
In reality, this is one of the best books you can grab as it is the foundation that is so often missing from Forex traders.
Forex traders love the idea of a new Expert Advisor (EA) or some magical forex system that will spit out endless money.
But nothing could be further from the truth.
If you are going to end up purchasing EAs, then you will want to have the foundation with which to thoroughly evaluate a new trading system.
If you don't have a rock-solid foundation, then any EA will do. Just double-click on it, activate it and start trading.
You will find Anna's Forex book a compelling and interesting read. It will get you thinking.
It will help shape your mind to what is needed to get the most from your Forex trading. This is one of those classic Forex books you will refer to time and time again.
Top 10 Forex trading books for beginners
Outside the best FX books mentioned above, we thought we'd compile a list of other books that didn't quite meet the cutoff but are ideal for beginners to Forex.
We aren't going to write a review about each one, but instead, provide links to Amazon for you to check out their reviews.
Please note that we earn a small commission from Amazon if you follow a link from this page. We spend a lot of time writing content and the small commissions are how we pay for this site and the information contained within.
Hopefully one or more of these FX books land on your shelf at home. But more than that, hopefully, they are able to increase your trading confidence and put more pips in your FX trading account.
Some details to ponder about the Forex market
Forex or FX Trading is the most dynamic, liquid and exciting market in the world. The Forex markets are also growing at an alarming rate with the 2013 daily trading volumes hitting an impressive $US5.34 trillion, according to the Bank for International Settlements (BIS) survey conducted in February 2014. To ensure you are able to make some profits you are going to need some Forex tutorials or education and Forex trading books are the best way to get started.
To get an idea of how fast-paced the Forex (FX) markets can be, grab a live FX price feed on the 1st Friday of every month and sit on the sidelines and watch as the non-farm payrolls data in the US is announced. Non-farm Payroll data leads to explosive moves in both directions within minutes.
The Forex markets trade in pips and if you don't know your pips from your points then you need to grab yourself some education.
Day Trading books
Contracts for Difference books
Technical Analysis books
Forex trading books
Trading System books
Trading Mindset and Psychology books
Investing books
Personal Development books
Swing Trading books
Wealth Creation books
Daryl Guppy books
Stock Market book reviews
[juiz_sps buttons="facebook, twitter, google, digg, weibo, linkedin, stumbleupon, mail"]