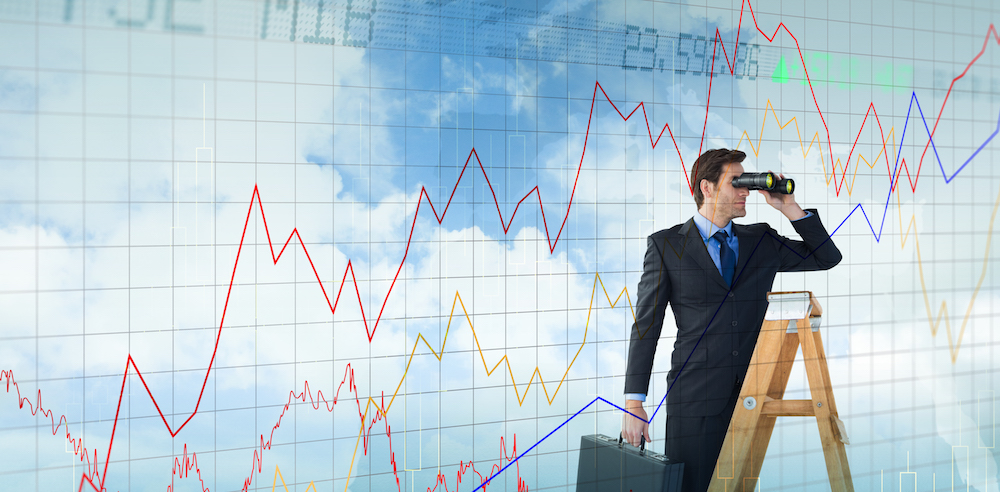 Want to win big on the stock market? You might be wondering what your options are.
Well, you could mix things up by going from a stocks-only portfolio into CFD trading or forex trading. You could master various basic tips and techniques until you know how to spot new gaps or trends long before the market has even caught up. Or you could follow master trader Craig Ellis, an analyst for B. Riley FBR with an astounding 83% success rate over 12 months, yielding an impressive 39.6% return. Unsurprisingly, Ellis is an expert at chip stocks. He correctly called out Action Alerts PLUS holding Nvidia (NVDA) in 2016, netting an astonishing 260% on this one between February 2016 and February 2017.
We recommend following Ellis' top three picks right now, while bearing in mind the feedback from the greatest trader of all time, Warren Buffet, at the most recent Berkshire Hathaway shareholder meeting. Read about the triumphant trio below.
Broadcom
Chip supplier Broadcom's (AVGO) second quarter revenue has just come in at $5.017bn along with earnings of $4.88 per share. Ellis underscored his buy rating on 8 June with a $308 price target (18% upside potential). Broadcom also delighted investors by announcing a huge $12bn, 18-month share buy-back program in April. "We are encouraged with numerous signs of continued strong end demand in the enterprise businesses," Ellis enthused. "We expect continued strong 2H18 data center spend, a potential enterprise lift, and seasonal wireless strength which should fund aggressive share buy-backs through the year, a positive set of end demand and company-controllable catalysts."
Ellis isn't a singular supporter of this stock – 24 analysts have set buy ratings for Broadcom with only two playing it safe on the sidelines in the last three months.
Semtech
Semtech (SMTC) is a frontrunner in the analogue and mixed-signal semiconductor supply space. Ellis has just upped his price prediction on Semtech from $47 to $56 (14% upside potential). He believes strong gains over 12 months are in order.
Recent earnings results reveal LoRa (Long Range) bookings and sales have hit all-time highs, with annual sales of $80m–$100m per year well within range. What does this have to do with Semtech? The company has invented and patented its own range of LoRa transceivers, enabling coverage in indoor locations that are typically hard to reach.
Ellis says he believes Semtech will realise its goal of $1bn in sales by 2020.
KLA-Tencor Corp
KLA-Tencor Corp (KLAC) in California is hot right now given its intention to acquire Orbotech for $3.4bn. The company provides technologies such as process control and yield management solutions to the semiconductor industry. In a double whammy of good news, KLA-Tencor has also announced a $2bn share buy-back program plus a $1bn debt raise.
Orbotech is an automated optical inspection equipment company that is incredibly successful. According to Orbotech CEO Asher Levy, there is almost zero chance that when you pick up your smartphone or tablet, Orbotech did not have something to do with its design, production or inspection.
As a result, Ellis writes: "We believe the deal has sound strategic logic, a reasonable cost synergies profile, potential synergies upside if unforecast but possible revenue plusses emerge, and prospects to enhance KLAC's long-term revenue growth and EPS potential." He gives the stock a buy rating.
The buy sentiment does not come from Ellis alone – analysts generally share the same opinion.