TrendsTurbo is a multi-award-winning CFD and Forex broker. TrendsTurbo was established almost a decade ago with many successful years of market presence; the evolution and ongoing development of their international brand are based on qualified and experienced professionals' dedicated work. They are regulated out of St Vincent and Grenadines.
TrendsTurbo highlights the following key services on their website:
"We are proud to provide our clients with high-quality services, innovative technology, fast and reliable platforms, and a high support level."
TrendsTurbo Pros & Cons
Pros
Tightest spreads in the market
Zero fees and commissions
Trade with the award-winning MT4 platform
Highly responsive customer support via account managers
Opportunity for 300:1 Leverage at Platinum account level
Mobile trading option for both iOS and Android
Cons
450 assets available to trade less than some competitors
MT5 trading platform not available
Trading Platforms and Tools
TrendsTurbo makes use of the MetaTrader4 (MT4) trading platform as its main offering for all types of traders. It is a well known, user-friendly interface that is accepted as offering both interbank liquidity and fast execution. MT4 is also a platform that enables a user to manage and monitor all their trading activities in one area. This includes the ability to check on pending orders, trading account history, cash operations, and overall balance, equity and margin. MT4 is, in effect, highly regarded as a central trading hub that is both robust and very intuitive. There are many built-in trading indicators and graphical options, and a multilingual interface within the MT4 Client Terminal.
The MT4 WebTrader is the web platform of the popular MetaTrader4. It is downloadable and leads you to a universe of trading assets from currency pairs, metals, indices, stocks and commodity CFDs. Trading with the MT4 WebTrader gives you the following options:
One-click trading
Real-time quotes in the Market watch window
9-time frames to choose from
3 types of price charts
Main graphical objects: horizontal and vertical lines, trend lines, channels, Fibonacci levels

Importantly in today's trading environment, the Metatrader4 within TrendsTurbo offers a mobile app that is serviceable for Apple iOS and Android devices. The App allows the user to still choose from multiple technical indicators to enrich your charts and continue to have access to daily news and market updates. To use the MetaTrader4 Terminal on your macOS device, a trader will need to install the 'Wine' emulator. Once downloaded, it gives the user, online quotes of trading instruments, a one-click trading option, popular technical indicators, three execution modes and eight types of orders.
On all of the above, any questions when setting up can be directed to the helpful support team at [email protected]
Broker Products
TrendsTurbo offers over 450 assets that can be traded within forex, commodities, indices, futures and shares. Cryptocurrencies are also available on the platform. The foreign exchange market is the mainstay of most online broker offerings, and TrendsTurbo is no exception. One of the key elements behind the interest in forex is that it is highly liquid and is open for twenty four a day. It can be bought or sold as an opening position and this lends itself well to contract-for-difference (CFD) trading, which activates a cash position that is backed by daily margin calls and enables a leveraged position. The EUR/USD is the most traded asset on the TrendsTurbo platform, but there are many currency pairs both major and minor ones for the trader to take a look at.
Commodities are split between Metals and Energies on the TrendsTurbo MT4 trading platform. With TrendsTurbo, you can buy and sell commodity CFDs on all the significant metals, including platinum, copper, silver, and gold. With the Energies, TrendsTurbo offers many energy products, including Brent and WTI crude oil, petroleum, natural gas and heating oil. All of these have robust market liquidity and manageable volatility. TrendsTurbo argue that for commodities, they offer an easy-to-navigate cross-platform, coupled with timely, accurate and transparent bid-ask spreads and importantly, no commissions, hidden fees or conflicts of interest.
CFDs are incorporated into the TrendsTurbo indices offering, where they offer access to over ten global stock indices, including the NASDAQ, S&P500, EuroStoxx 50, FTSE100, DAX30 and CAC40. It is important to recognise there is a high correlation between these well-known equity markets and the TrendsTurbo trading platform can help all types of investor to navigate around this opportunity.
Helpfully, there is a tab on the TrendsTurbo platform that allows traders to execute in futures contracts that are priced against a forward date in the calendar. Leverage plays a significant role in this process as a relatively small outlay of cash can support a large position, with the requisite risk attached. This type of contract is particularly relevant in the commodities market.
At TrendsTurbo, a trader can buy and sell stock or equity CFDs on some of the largest companies in the world. Specifically, those listed on the New York Stock Exchange, NASDAQ and the major European and Asian stock exchanges. Under the CFD model, a trader can open with a long or short position. Stocks tend to require an awareness of upcoming calendar events, like quarterly earnings announcements and the correlation and performance of the sector to the global economy. Traders can buy the underlying stock instrument if they do not wish to trade in CFDs.
Fees
Trendsturbo makes it clear on its homepage that there are no deposit or withdrawal fees. Although note there are only two deposit methods – being credit/debit cards and bank transfers.
Additionally, TrendsTurbo is keen to highlight that it offers the tightest spreads in the market  (examples highlighted) on all the available tradeable assets on its platform, some being fixed as above, and are backed by zero fees and commissions.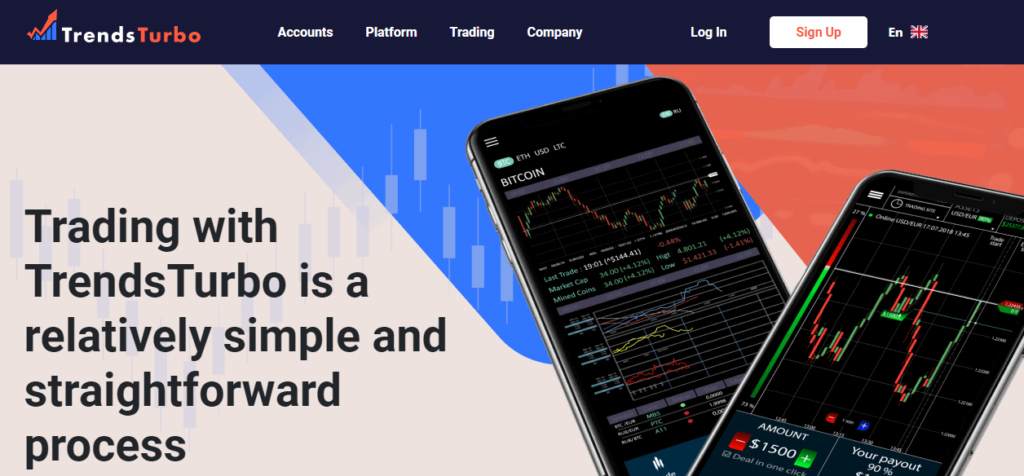 Whilst the spreads are tight and attractive, they will differ depending on which account you choose to open. A Bronze account  has spreads from 2.8 pips, whilst a Silver account spreads are from 2.5 pips. A Gold account drops again, and is from 1.5 pips, whilst a Platinum Account lower again being from just 0.1 pips.  There is more on each account and what they offer later in this article.
Additional Services and New customer Offers
TurboTrends have have four types of trading accounts, Bronze, Silver, Gold and Platinum respectively. All the accounts attract no commission. The Bronze account would be relevant for beginner traders. The Bronze account is an excellent entry level and attracts an Account Manager. The spread for Bronze Account holders for trading major currencies is 2.8 pips which is competitive for the online broker industry. Another thing that is worth highlighting with the Bronze account, is the fact that they allow scalping at this entry level. Scalping is a well known trading activity, where a trader can close trades with a small amount of profit in a short period of time, almost instantly after its opening, or at least within the day session. It is worth noting that there is no EA (Expert Advisors) available to the investor on the Bronze account type. The minimum investment to open a Bronze Account is USD250.
The Silver Account does have access to an Expert Advisor and leverage can go up to 1:200, from 1:100 for Bronze accounts. A Silver Account requires a minimum investment of USD2000. For Gold and Platinum Accounts not only do the spreads tighten further, but leverage goes higher to 1:300 for Gold and 1:400 for Platinum account members. Both attract Expert Advisors. The minimum investment for entry to the Gold Account is USD10000, whilst for the top end Platinum Account it is USD50000.
It is important to recognise that there is paperwork attached to opening an account as there is for all online regulated brokers. For TrendsTurbo to meet the requirements of the government, licensing bodies, and anti-terrorism laws, they have adopted a robust KYC policy and procedure. Before they can activate your trading account, they must receive the relevant documents relating to a passport, photo ID and proof of address.
TrendTurbo write on their website,
"The process is quick and easy, just gather your documents and either scan them or use your mobile device to take a photo and then click on the button below and attach your documents and click upload. We will handle the rest and notify you as soon as possible. Most accounts are approved within minutes to an hour but depending on your location and the type of documents that you supply, the process can be longer."
Under the regulations, there are a number of customer offers that TrendsTurbo highlight on their website. For example, there is a TurboTrends Introducer Program. An introducer is an individual (or company) that is able to direct new clients to a forex broker and receives a commission for doing so.
There is also a bonus scheme available for all clients, and the size of that bonus will relate directly to the initial deposit in the trading account that has been set up. A bonus will be credited to a client's trading account once the below conditions have been met:
The customer is over the age of 18 and has full compliance status according to KMA Group LLC requirements.
In order to receive the bonus, please read the following terms and conditions and sign or copy-paste these terms into an e-mail and send to [email protected] with the following wording. " I XXXX, account number, herby accept the following terms and conditions of KMA Group LLC and would like to receive a bonus."
There is more detail on this proposed Bonus Agreement on the TrendsTurbo website under https://trendsturbo.com/documents/bonus-agreement
Customer Services
The attraction for traders of all types is the access to account managers from the Bronze account entry level upwards. These Account managers are there to take you through the TrendTurbo platform and the client offerings within it. The trading platform, driven by MT4, is very user friendly and very intuitive for a user to navigate through. What the Account manager can do though is help educating a beginner trader or otherwise on the market itself, and on trading methods and concepts that tend to work well overtime. This is an invaluable service when first launching as a client of TrendTurbo or as a first-time trader. More details can be found on customer services by e mailing TrendsTurbo at [email protected], visiting the website to ask a question on https://trendsturbo.com/contact-info , or calling the customer services phone contact number which is +447441426892.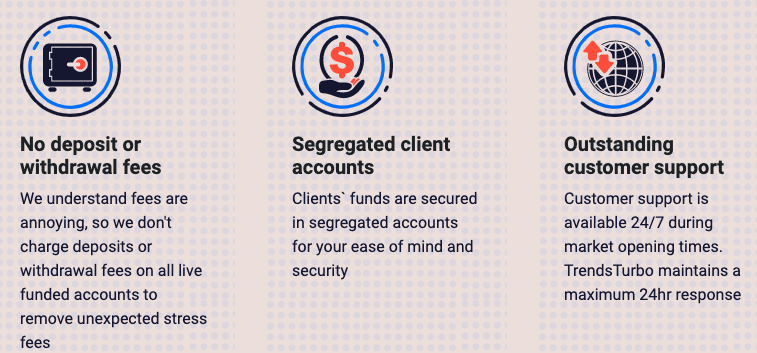 Here is the registered address for TrendsTurbo should you require it:
TrendsTurbo, First Floor, First St Vincent Bank Ltd Building, James Street, Kingstown, St. Vincent and the Grenadines
Note, that all client funds are secured in segregated accounts to give the end client the security they deserve.
Summary
Trends Turbo is an international brokerage company, registered in St. Vincent and Grenadines, that accepts clients from all over the world except USA, Israel and France. It has been in existence for over ten years and has worked hard and listened to its clients in order to build a robust responsive client base, that is still evolving. This is exemplified by the list of the main goals within the TrendTurbo corporate statement:
TrendsTurbo offers a continuous 24/7 service that is being updated with innovative tools and applications
TrendsTurbo optimises trading conditions with over 450 financial products that is set for all types of traders
Via MT4 , TrendsTurbo has a trading platform that clients can use on their desktops or mobiles
Make financial and trading information instantly available to the client
Provide the latest technical analyses and market news via professionally written articles and informative videos to support client trading decision making
Continuous update and development of additional online educational material that will cover the financial markets' main aspects and understanding
It is very helpful that TrendTurbo offers an Account Manager for all four types of its accounts, from Bronze through to a Platinum Account. In fact, for Silver upwards the trader will also have a dedicated Expert Advisor (EA). All this helps the trader navigate around a very intuitive trading platform and receive helpful trade idea support. MetaTrader4 is the mainstay for TrendsTurbo and is very well known to most investors in that it provides a solid web based and mobile trading platform for all types of traders. It is worth noting that fees are zero for deposits and withdrawals whilst trading spreads are tight by market standards against a backdrop of nil commissions.