Gemini is a digital currency exchange and custodian that allows customers to buy, sell, and store digital assets. Gemini is a New York trust company that is regulated by the New York State Department of Financial Services. Gemini was founded in 2014, by Cameron and Tyler Winklevoss. Currently, it operates in the United States, Canada, the United Kingdom, South Korea, Hong Kong, and Singapore.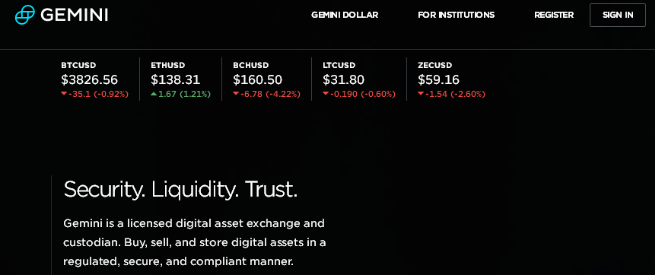 Review Summarization – Items selected from various Internet reviews:
Other Distinguishing Factors: To its credit, Gemini is cooperative with regulators. The platform is regulated by the New York trust company, which in turn is regulated by the New York State Department of Financial Services, making it a great above-board option for crypto investors. The rest of the service is standard, except that only three cryptocurrency pairs are supported, but margin and short selling are not. Gemini is open to both individual and institutional investors, and accepts fiat currency.
What cryptocurrencies can be bought: Pairs supported are BTC/USD, ETH/USD, and ETH/BTC.
Exchange Fees: Maker and taker fees at around 0% to 1%, depending on size and volume of trading.
Security Precautions: As a regulated entity, security measures are top of the line. The majority of assets are held in offline "cold storage", with security protocols prevalent in every step of the firm's process. Gemini also provides FDIC insurance for cash (although once you've converted your cash into crypto, you're on your own). For many investors, this is a huge plus.
KYC and AML Information: Since the firm is regulated, it conforms to all AML and KYC statutes. Anonymity is not a trait of Gemini.
Customer Service: Gemini provides a self help-style customer support page through its Help Center, which has a detailed FAQ section broken down into the following categories: General, Trading, Developers and Security. If you have a specific question in mind, you can type it in the bottom tab labeled "Support". If the FAQ section doesn't help, you can send an email to customer support by selecting "Submit a Request".
Pros:
Strong reputation backed by two leading traders
Dollar-to-crypto and crypto-to-crypto trading
Available in most US states
Discounts and rebates for high-volume traders
Cons:
Strict regulation comes at a cost – in this case, it's the loss of privacy
Limited selection of altcoins
Limited funding methods
Concluding Remarks
Gemini is a leading digital asset exchange that rewards high-volume traders with discounts and rebates. Gemini is available across most US states, with the exception of Oregon, Arizona, Alaska, Hawaii and Wisconsin. The company website says trading in these regions will be available soon. Globally, Gemini is available in the United Kingdom, Canada, Hong Kong, South Korea and Singapore. Gemini is a fully regulated cryptocurrency exchange founded by the Winklevoss twins, two of the most prominent bitcoin traders. Gemini was founded in 2015 on the premise that digital assets have the potential to radically reshape the financial system. Today, it's one of the few bitcoin exchanges regulated by the New York State Department of Financial Services.