Cat Davey CFD Book Review by LearnCFDs.com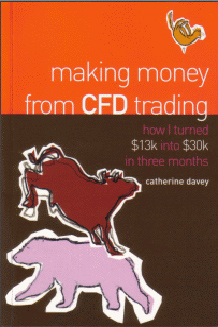 For those that know CFD trading you will be very familiar with Cat Davey. Cat Davey wrote the first CFD book in Australia called 'Contracts for Difference: Master the trading revolution' and from the success of her first book comes this incredible journey into live CFD trading.
Unlike many trading book authors today, Cat Davey is a real trader with real trading results using real money and Cat takes you on an inspiring adventure from the depths of despair to trading profitably. Making Money from CFD trading explores the day by day journey Cat Davey took to turn $13,000 into $30,000 in 3 months.
An inspiring trading journal you must read
Many of the greatest stock market educators from Van Tharp to Mark Douglas have suggested time and time again the importance of keeping a trading journal and Cat Davey takes it one step further and offers her daily trades for all the trading world to see.
What the title doesn't immediately suggest is the incredible difficulty Cat Davey endured whilst writing Making Money from CFD Trading as things didn't quite go to plan in the early part of the book. Coming off a recent losing streak Cat Davey was determined to turn things around and writing her CFD book was going to be the catalyst.
11 straight losing days – Cat Davey's CFD Trading goes 'Into the Abyss'
What unfolded was a drawdown that saw many tears, trips to the hypnotherapist and many a dollar spent with her trading coach. Cat Davey appropriately titled Week 3 'Into the Abyss' as her trading account managed a drawdown of $4,176 while the account plummeted from $13,000 to $8,824.
For new traders this book will be a gold mine of what not to do and mistakes you need to avoid. In addition, Cat Davey's trading picks up and Making Money from CFD trading becomes a reality.
Nevertheless, I believe that anyone can make money trading CFDs. Not only can it be done, but it is possible to do it in a style that does not fit the stereotype of the hard-core Wall Street-style trader.

Cat Davey – Making Money from CFD Trading
Have you considered giving up work to trade full time?
For those familiar with stock market trading and CFD trading, the thought of trading full time would no doubt have crossed your mind. So what does it really take to trade full time? Cat Davey in Making money from CFD trading outlines the harsh reality of real life CFD trading. Make no mistake, trading as a business requires incredible discipline, focus and the ability to identify and exploit your trading edge in the markets day by day.
Every trader must know their numbers – do you know yours?
There is an old saying in the business world which states 'You can't improve what you can't measure' and when trading for a living you must know your numbers. Cat Davey provides all her trading numbers week by week including such key statistics like:
Profit/loss to date
Closed positions
Open positions
Winners/Losers & the win/loss ratio
Biggest win/biggest loss
Number of consecutive winning and losing trades
By keeping on top of your numbers you can start to pinpoint where the problems with your trading are and Cat Davey openly admits to identifying many common trading errors she encountered as a result of knowing her trading numbers.
Trading for a living is tough and many lessons will be learnt along the way. Making Money in CFD Trading sums up the key lessons Cat Davey has learnt and the Do's and Don'ts at the end of each chapter. You'll find you will be highlighting, ear marking and nodding you head as you relate to the mistakes Cat Davey made whilst writing her book.
I am often undisciplined; occasionally ego-driven; a procrastinator; a person who thinks a vomiting dog can predict the market; and I find wisdom in cable-TV dating shows. Despite this, I still traded CFDs very profitably.

Cat Davey – Making Money from CFD Trading
For those who enjoy technical analysis and pattern trading you will side with Cat Davey as she uncovers her key conditions for entry and exit. Cat uses many different forms of technical analysis like chart patterns, Fibonacci retracements and basic support and resistance trading. If you love break out trading then you need to grab this book and witness first hand how it is done.
Cat Davey's most important lesson uncovered
From 3 grueling months of CFD trading, Cat Davey finishes the book with her most important lessons. The most important lesson Cat learned from trading full time and keeping an accurate trading diary is listed on page 213 so you'll have to buy the book to find out what it is.