What You Should Know When Developing Your Forex Exits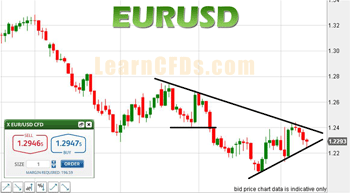 Here we will look at five principles for developing your Forex exits. These principles apply regardless of the specific exit technique that you decide to use and will assist in deciding on the appropriate exit technique.
1. Learn how to cut your losses quickly when trading Forex
Before you enter a position you should know where you are going to get out. This is critical to keeping your trading account intact when Forex trading. A small loss can very quickly turn into a large loss, therefore cutting losses is critical to improving your Forex exit signals. Develop the habit of always placing a stop loss order into the market when you enter a trade, to ensure that you control your losses on any trade.
2. Knowing how to hold your successful Forex trades
It takes time for a trade to play out and having the patience to allow the trade to develop is critical to the success of the trade when you are Forex trading. This does not mean that a trade that does not work out should be held until it becomes profitable. A stop loss is an efficient way of dealing with these trades, but for profit to grow it takes time to reach the appropriate Forex exit point.
3. Successul Forex traders know how to scale out of positions
Scaling out of a position is the reverse of scaling in. You exit part of a position on the first signs that the market may be turning around, then exit more once the turnaround is confirmed. A common Forex exit strategy employed is to exit 1/3 of a position when the trade has moved in your favour by the amount of your risk, 1/3 of the position to take a profit at twice your risk and the final 1/3 when the trend finally ends.
4. Forex traders know when and how to take profits
When a trend finally ends it is time to take profits. Unfortunately a flag does not go up to signal the trend is over when you are Forex trading. You are looking for clues that alert you to the end of a trend. Any Forex exit signal that you use when trading Forex should be based on set criteria. Once you are in the heat of a trade your perception of what is happening is altered. It is often linked to your profit and loss rather than to what the market is doing. Exit the trade when your signal occurs.
5. Re-entry is important
It can be frustrating to be exited from a trade too early when Forex trading, but exiting from a trade does not mean the opportunity no longer exists. If your Forex exit signal was too early you can re-enter a trade provided the reasons you got into the trade remain valid.
Conclusion
Mastering these core skills will dramatically improve your trading results regardless of the market you are trading. Identify the area where you are weak and work to improve on that area. Master one skill at a time to improve your trading overall.