Cryptocurrency valuations took a bloodbath in 2018, but even though losses exceeded 70% or 80% or doors were closed forever, the industry did bounce back. It did weather the storm and is better for it. In the midst of this carnage, however, several positive developments were taking place in the background that will "bleed" over into 2019. There are several reasons to be optimistic about the current year in progress, but after the cruel lessons of the last twelve months, the proper attitude going forward may best be termed as cautious optimism.
Here are three reasons why 2019 will be a year of progress and recovery:
#1 – Psychology of a Market Cycle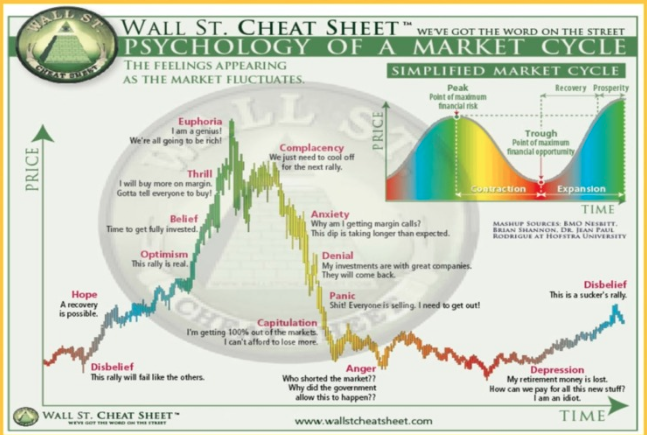 This interesting diagram comes to us from one investment advisor, who goes to great lengths to remind us that all market cycles are emotional rollercoaster rides. The crypto ride, due to its extraordinary volatility, will always be bumpier than most others, but it will be predictable, if you buy into this theory. Bitcoin, which represents over 50% of the entire market capitalization of the crypto coin world, has gone from "Disbelief", to "Euphoria", down to "Depression", and now appears to be repeating its cycle. The source of this chart, Matt Laxen, cautions that, "There are no guarantees in this space, but there is a case to be made for another bull run occurring within the next few years."
#2 – Acceptance by Big Money and Governments is on the Rise
Regulators and government officials are beginning to take cryptocurrencies seriously. Working groups on both a national and international level are developing new digital frameworks to guide legislation going forward. These projects may take a while, but the threat of litigation and incarceration should be contained. ICOs may soon become "STOs" or Security Token Offerings, where the tokens do have an ownership interest in the blockchain development enterprise, and exchanges will invite regulatory oversight.
Big institutional players like ICE (the Intercontinental Exchange and the parent company behind the $20 trillion New York Stock Exchange), Fidelity Investments, the NASDAQ, and Facebook have major crypto/blockchain projects that will come on stream in 2019. The most talked about project is "Bakkt", ICE's open-source Bitcoin Futures trading platform designed specifically for the institutional investing crowd. Major banks are also lining up to participate, as well. Credibility and Big Money are coming.
#3 – Major Crypto Developments are on the Way
Within the crypto industry, no one is sitting on their hands, so to speak. Several ICO development projects will begin to mature and deliver blockchain innovations to the marketplace. The top ten coin programs will also be upgrading their service profiles. Bitcoin has been hard at work building its "Lightening Network" to address its Achilles Heel – the time it takes to process blockchain updates. Ethereum is on track with developments of its own to improve scalability and to radically change what miners must do to update the blockchain, i.e., reduce energy consumption in a large way. Lastly, as you might expect, demand from such companies as IBM, J.P. Morgan, Facebook, and Oracle, to name just a few, for blockchain developers and crypto specialists has had a major impact on these job classifications. Crypto jobs are on the rise:
Concluding Remarks
All indications suggest that the crypto ecosphere will survive and thrive in 2019, but we must be mindful that the industry is still in its infancy. It may take as long as a decade for this asset class to fully mature. As for 2019, cautious optimism is advised.