What a difference a month makes in the Bitcoin world. It was not that long ago that every Bitcoin cynic on the planet was predicting a major drop in valuations down below $2,000 before a new bottom of support would be established. Every manner of technical analysis was trundled out to support these findings, including a few obtuse ones that relied upon 300 and 400-day moving averages. In actuality, BTC finished February with its first month of positive growth, 10.4%, after a six-month losing streak.
Fundamental forces will always overrule whatever any technical chart might portend. Technical analysis (TA) is only a tool to measure investor sentiment and psychology, which may also be driven by the thousands of trading "bots" that are programmed to react to the same technical indicators that they help create. Simply stated, the crypto world is still in its embryonic stages. TA may be useful in these circumstances, but it is wise to keep an eye on fundamental changes in the marketplace, before placing any big bets for the future.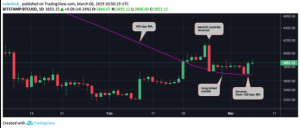 The chart above speaks for itself. Bitcoin made an abrupt turnaround early in February and has never looked back. At one point, it charged past $4,000 and peaked over $4,200 before being rebuffed by the bears. Private analyses suggest that "Whales", investors with large Bitcoin positions, have been accumulating BTC, especially whenever it dips below $3,500. At present, prices rest upon support above the 100-day moving average, and analysts expect the leading crypto to test $4,000 once again.
Analysts have stated that, for Bitcoin to truly be out of the woods, it must rise above the critical $4,000 – $5,000 region. Only then, will investors have confidence that Crypto Winter has finally come to an end. Alex Kuptsikevich, financial analyst at FxPro, wrote: "Over the past 24 hours, bitcoin adds more than 3% and trades around $3,900. The $4K level is considered by experts as an important resistance, [a move higher] will open the way for further market growth."
The recent surge was also led by several of Bitcoin's altcoin brethren: "Binance coin, the utility token from the world's largest cryptocurrency exchange, rose a staggering 17.84percent to $13.40. Hours later, the litecoin price began to surge, rising more than 10 percent in a matter of minutes. For the day, the coin is up 13.86 percent to a present global average $52.93. At its peak, litecoin reached $54.68, marking a new 2019 high."
No one is predicting that Bitcoin will again ramp up as quickly as it did in 2017, but gradual growth, less price volatility, and an established level where potential buy orders are ready to bolster the cryptocurrency are all good signs for the future. There have also been many positive moves by large institutional players to pave the way for future growth, but many of these projects will need time to mature. Just how positively investors wish to interpret these moves may be the fundamental necessary to propel BTC forward in a big way.
February has traditionally been a good month for cryptocurrencies. This year's February was no exception. Bitcoin enthusiasts have cause for celebration, but the next month will be key in determining the long-term prospects for Bitcoin and other crypto coins, as well.